BfGoodrich Winter Slalom KSI
Overview
BFGoodrich tires have been around for more than a decade and are built to withstand harsh and difficult terrains. Known for their durability and reliability, they have proven to be excellent for almost every kind of racing such as rally, drag, etc.
The winter Slalom KSI (short for, Key Snow and Ice) is a welcome addition to the manufacturer's top-notch lineup for passenger vehicles with a 3PMSF rating; these specially engineered tires deliver an outstanding drive and comfort.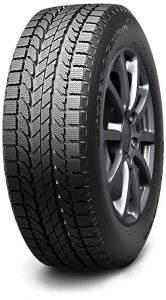 As a premium performance tire for snow and ice, these provide ultimate grip and traction over icy roads due to a specialized rubber compound with micro-pores.
The tread compound and asymmetric pattern also ensures increased grip and improved braking while protecting against hydroplaning. A higher-sipe density and an increased number of biting edges also maximize grip on winter roads.
The block edges are shaped like a diamond for improved tread wear and control on dry surfaces whereas the full lateral grooves increase aquaplaning resistance and traction in deep snow.
BFGoodrich Winter Slalom's strength lies in its inner construction based on twin steel belts over a casing made out of polyester to withstand tough conditions.
Additionally, some sizes come with a more durable casing with ETEC system (short for Equal Tension Containment) with a nylon wrapping. This gives the variant its steady contact patch for enhanced control and driving comfort.
This variant comes with a speed rating of S (180 km/h) and is available in different tire sizes from 14 inches to 17 inches.
As a bonus, the built-in tread depth indicator warns the driver as soon as the tire is worn out to 50% of the remaining tread.
The BFGoodrich Winter Slalom KSI comes with a limited warranty provided it's bought from an authorized dealer. The manufacturer recommends installing a complete set of four tires in order to enjoy ultimate grip and traction.
The Pros
Excellently grip on all winter surfaces

High resistance to aquaplaning

Durable and reliable

More control and stability on snow, ice and slush
The Cons
Makes a humming noise

Higher rolling resistance
Overall Thoughts
With features like micro-pores, diamond-shaped block edges, full lateral grooves, etc., the BFGoodrich Winter Slalom is a highly capable tire designed to perform on winter roads.
All things considered, this is an excellent winter tire designed to deliver enhanced traction and control on wintery surfaces. Its consistent contact patch promotes even tread wear while also ensuring complete control on dry and wet roads.
However, like many other winter tires, this model also generates a little noise when driven on above-average speed (75 km/h or more). Some users have also noted increased wear and loss of control during 90 degree corner turns.
Overall, this is a good buy in the price range and most buyers are satisfied with its durability and performance.
What Vehicles Would BfGoodrich Winter Slalom KSI Fit?
BFGoodrich Winter Slalom KSI is designed for passenger vehicles for extra grip, stability and reliability in the rough winter conditions.
Below is a list of some vehicles that this tire can fit – note that this is not a complete list of all compatible cars.
Honda Odyssey

Dodge Grand Caravan SE

Nissan Pathfinder SE 4wd

Toyota Highlander 4wd

Jeep Wrangler

Jeep Grand Cherokee Ltd

Ford Expedition 4wd

Chevrolet Malibu

Honda Accord

Ford Fiesta

Ford Focus

Ford Taurus

Honda Civic

Honda Odyssey

Honda CR-V

Nissan Altima

Toyota Camry

Toyota Corolla

Toyota RAV4
Tire Sizes Available
The BFGoodrich Winter Slalom KSI comes in different sizes as mentioned below:
14″
15″
185/60R15

185/65R15

195/55R15

195/60R15

195/65R15

P205/75R15

205/65R15

205/70R15

P225/75R15
16″
205/50R16

205/55R16

205/60R16

205/80R16

215/60R16

215/65R16

215/70R16

P225/75R16

225/60R16

225/70R16

235/65R16

235/70R16

P245/75R16

245/70R16

255/70R16

265/70R16

215/65R17

225/60R17

225/65R17

265/70R17
Price Range
The price of Winter Slalom tires range from $150 – $170; buyers can also get better deals and discounts on some online stores.
Warranty Offered
The warranties offered are mentioned below:
This is offered for 1 year from the date of purchase or when the tread depth wears to 2/32".
Workmanship & Materials Warranty
The workmanship & materials warranty is applicable until:
6 years from the date of purchase with free of charge replacement for the first year

Prorated from 2/32" remaining tread depth