BFGoodrich Rugged Terrain T/A Tire Review & Rating
Have you been looking for a truck/SUV tire that combines smooth driving on the highway with one that will also perform well on any type off-road terrain? The BFGoodrich Rugged Terrain T/A is engineered to do just that.
This all-terrain model from BFG uses the on-road elements from the Long Trail T/A Tour to go with the proven off-road capabilities of the All Terrain T/A KO. The rugged attractive tread design adds to the looks of all types of pickups and SUV's, while the aggressive tread pattern balances the needs of those requiring more versatility in their tires.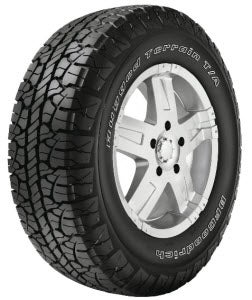 On-road driving comfort is enhanced through two polyester and single strand beads that provide a smooth ride at highway speeds. Computer optimized tread elements minimize road noise, which is immediately noticeable as you first drive on this tire.
Two deep circumferential grooves, multiple lateral grooves and unique siping around the tread evacuate water from under the tire and enhance wet surface grip, as well as reducing the risk of hydroplaning.
The wrap-around shoulder block design provides added traction on loose dirt, mud, sand gravel when you take the tire off-road. Keeping the tire clean and free from rocks and mud is made easier with the smaller tread cleaning bars in the shoulder grooves, which is something we have often heard other drivers talk about in reviews as well.
Inside the tire you will find two steel belts and BFGoodrich's exclusive Equal Tension Containment System that reinforces the belts with spirally wrapped nylon for added strength and stability. Sizes ranging from 15-20 inches are available, and LT sizes have a load range E rating. A 50,000 mile warranty is also included.
Click Here For Current BFGoodrich Coupons
Click Here To Find Current Prices
Pros
Excellent on and off road performance

Ride is smoother than most any tire in this class

Tires are much quieter than you might think

Treadwear is outstanding
Cons
Nothing that really stands out
Overall Thoughts
There are a number of tires that are good at being an on-road tire, and ones that are great at performing off-road, but finding one that can do both really well is difficult at best. That is not the case with the Rugged Terrain T/A. This tire is simply one of the top models in its class. Based upon all of the other reviews online, we are not alone in our assessment.
Overall… we can recommend this BFGoodrich model to anyone looking for reliable and long lasting on or off-road performance.
What Vehicles Will The BFG Rugged Terrain T/A Fit?
(This is not a complete list of ALL vehicles this tire will fit)
Buick Enclave

Chevy Silverado, Suburban, K1500

Dodge Ram, Durango, Dakota

Ford F-150, F-250, Explorer, Escape, F-350

GMC Sierra, Yukon

Honda Ridgeline

Hummer H3

Hyundai Santa Fe

Infiniti QX56

Jeep Wrangler, Grand Cherokee, Liberty

Kia Sportage

Nissan Frontier, Xterra, Titan

Toyota Tacoma, Tundra, 4Runner, FJ Cruiser
Tire Sizes
15″
P235/75R15XL108T RWL
P265/70R15 110T ORWL
31X1050R15C1 109R W
16″
LT225/75R16E1 115R B
P235/60R16 99T BSW
P235/70R16 104T BSW
P235/75R16XL109T RWL
LT235/85R16E1 120R W
P245/70R16 106T ORWL
LT245/75R16E1 120R W
P245/75R16 109T ORWL
P255/70R16 109T ORWL
P265/70R16 111T ORWL
LT265/75R16E1 123R W
P275/70R16 114T ORWL
LT285/75R16E1 126R W
17″
P235/70R17XL 108T BW
P235/75R17 108T ORWL
LT235/80R17E1 120R W
P245/65R17 105T BSW
LT245/70R17E1 119R B
P245/70R17 108T ORWL
P255/70R17 110T ORWL
P265/65R17 110T ORWL
P265/70R17 113T ORWL
LT285/70R17E1 121R W
P285/70R17 117T ORWL
18″
P255/70R18 112T ORWL
P265/60R18 109T BSW
P265/65R18 112T ORWL
P265/70R18 114T ORWL
LT275/65R18E1 123R W
LT275/70R18E1 125R W
20″
P275/55R20 111T BSW
P275/60R20 114T BSW
LT275/65R20E1 126R W
Price Range
Prices on the Rugged Terrain T/A range from approximately $118 and up. You may also find occasional rebates, discounts, coupons and special offers on this tire.
Click Here To Find Current Prices On All BFGoodrich Rugged Terrain T/A Tire Sizes
Warranty
BF Goodrich includes a 6-year or 50,000 mile treadlife warranty on this model. However, if the rear is sized differently than the front, the mileage warranty is for 25,000 miles. Tire uniformity is guaranteed for one-year or the first 2/32 inch of wear.
Materials and workmanship are covered for 6-years and include first year or first 2/32 inch of wear free tire replacement. A prorated amount is given for the remaining time period or down to the final 2/32 inch of tread depth.
---