BFGoodrich Radial T/A Tire Review & Rating
With classic good looks and performance to match, the Radial T/A from BFGoodrich has been one of the most popular tires for drivers of muscle cars, street rods, sport trucks and many other vehicles for over 40 years now. Even better is the fact that Goodrich has added new technology to provide enhanced performance.
An all new tread compound has been utilized to go with its symmetrical tread pattern to give the tire better all-season traction and a longer tread life. Added tread block phasing increase the performance as well as provide a quieter ride on the road.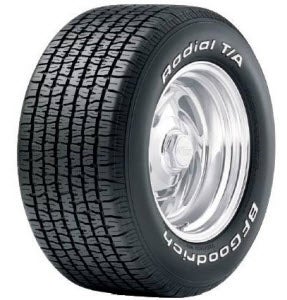 BFGoodrich's g-Wedge technology is a new addition to the T/A tire. It incorporates a sidewall stabilizer that is designed to increase lateral stability and steering response. Until now it was a feature found in several of their other higher performance model tires.
Inside the tire you will find two steel belts with spirally wrapped nylon that use BFGoodrich's ETEC system to strengthen the tread at higher speeds. It also provides added durability and increased ride quality. The tire is available in either a black sidewall or with raised white letters.
Pros
Dry and wet traction is excellent

 

 

 

Above average steering response

 

 

 

Ride quality and tread life are very good

 

 

 

Classic muscle car tire that never seems to get old

 

 

 
Cons
Not the best in winter weather conditions

 

 

 
Overall Thoughts
You can almost say the Radial T/A is kind of like baseball and apple pie in the American tire market; it's simply a dependable classic that looks good and performs well on any type of vehicle. It's not a tire that excels in any one particular area, yet its performance is solid in all of the important tire performance areas. There is no glaring weakness with this tread design and overall, we hope this tire is still available another 50 years from now.
What Vehicles Will The T/A Radial Fit?
(This is not a complete list of ALL vehicles this tire will fit)
Chevrolet Astro, Camaro, Caprice, Nova, Tahoe

 

 

 

Ford Mustang, Ranger, F150

 

 

 

GMC Jimmy, Sonoma

 

 

 

Pontiac Firebird, GTO

 

 

 

Toyota Pickup, MR2, Sienna

 

 

 

Oldsmobile Cutlass

 

 

 

Dodge Charger, Demon, Ram

 

 

 

Subaru XT6, Outback

 

 

 

Nissan Frontier, 200SX

 

 

 

Honda Civic

 

 

 

Mercedes-Benz 380

 

 

 

Buick Grand National

 

 

 

Plymouth Duster

 

 

 

Chrysler PT

 

 

 

Jeep Wrangler

 

 

 

Mercury Cougar

 

 

 

Datsun 280Z

 

 

 

Volkswagen Beetle

 

 

 
Tire Sizes
14″
205/70R14 93S RWL
215/60R14 91S RWL
215/70R14 96S RWL
225/60R14 94S RWL
225/70R14 98S RWL
235/60R14 96S RWL
245/60R14 98S RWL
15″
195/60R15 87S RWL
205/60R15 90S RWL
215/60R15 93S RWL
215/65R15 95S RWL
215/70R15 97S RW
225/60R15 95S RWL
225/70R15 100S RWL
235/60R15 98S RWL
235/70R15 102S RWL
235/70R15 102S RWL
245/60R15 100S RWL
255/60R15 102S RWL
255/70R15 108S RWL
275/60R15 107S RWL
295/50R15 105S; RWL
Price Range
Prices on the Radial T/A range from approximately $93 and up. You may also find occasional rebates, discounts, coupons and special offers on this tire.
Buy Now On Tire Rack
Warranty
There is a limited tread warranty on the Radial T/A. Tire uniformity is guaranteed for the first year or first 2/32 inch of wear. Materials and workmanship are warranted for 6-years and include free replacement during the first year or first 2/32 inch of wear. The amount is then prorated for the remaining time period or down to the final 2/32 inch of tread depth.
---