BFGoodrich Mud-Terrain T/A KM3 Tire Review
Michelin's Mud-Terrain T/A KM3 is the 5th Gen tire of its BFGoodrich brand. This latest offering is engineered with advanced technologies that are guaranteed to improve your vehicle's climbing, toughness, and traction over rock and in the mud.
Therefore, whether you're beefing up your vehicle for off-road fun, or for state-of-the-art capability to withstand outdoor activities, the Mud-Terrain T/A KM3 has got you covered. The product is engineered to take motorists anywhere they want to go.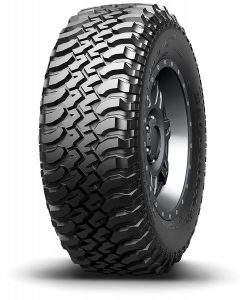 The radial all-terrain and mud-terrain categories were originally created and launched by BFGoodrich brand in 1980. In fact, this brand was the world's 1st radial light-truck performance tire. After that, BFGoodrich launched 35" radial Mud-Terrain T/A, which at the time was the world's tallest light-truck tire. Fast forwarding to 2018 shows us the 5th Gen Mud-Terrain T/A KM3, backed by four decades of progressive technology.
Pros
This BFGoodrich KM3 tire is specifically designed for serious off-road adventures due to its extreme traction and toughness
Offer splendid pinch shock resistance, sidewall protection, and chip-and-tear resistivity on gravel to combat intense off-road challenges
Manufactured to offer reliable street performance and minimum on-road noise levels for vehicles to and from the trail
Cons
Few buyers have complained about the reliability of these KM3 tires on wet surfaces after completing about 20,000 miles
Some buyers have raised concerns about its effectiveness on sand
Performance
For starters, the Mud-Terrain T/A KM3 offers 5% more optimized mud traction than its forerunner as per Michelin. The tire contains Mud-Phobic bars on its shoulders that are crafted to discharge compacted mud for increased traction in soft or muddy soil conditions. Also included in the tire's Terrain-Attack tread pattern are huge tread blocks that are built to render remarkable grip from any approaching angle. Moreover, its innovative Krawl-TEK compound is engineered to provide 8% better rock traction, which increases grip on rocks and other such surfaces.
The Linear Flex Zone of Mud-Terrain T/A KM3 enables its enclosed objects at minimum inflation for more solid grip when climbing. Furthermore, the Traction-Armor Sidewall Sculpture as well as the toothed shoulder design also enhance the traction capacity in mud and soft soil. Michelin has deployed its CoreGard Max (race-proven) technology to make this tire's sidewalls 27% tougher. The manufacturer derived this technology from the BFGoodrich Baja T/A KR3 (desert-racing) product line. Simply put, this piece of engineering prevents puncturing or splitting with enhanced thickness that safeguards the essential sidewall failure zone.
The manufacturer highlighted the Mud-Terrain T/A KM3's toughness by launching it on the Rubicon Trail in the craggy Sierra Nevada range. It's pertinent to mention that the 4×4 trail offers 35 km of the most daunting terrain in North America, comes with a difficulty rating of 10 – which is the toughest rating possible. The French tire giant is expecting its latest product to achieve best coverage of the 17" to 20" rim diameter market, which is the biggest segment in this category.
Additionally, professional auto testing of these tires on challenging trails have revealed a solid footing, whether descending off-camber knolls, or climbing.
This is because the sipped lugs, deep tread depth, and latest tread design all work in harmony to render a fantastic performance.
Cold Weather & Winter Performance
The sticky compound used to manufacture KM3 tires is nearly as flexible as rubber, which enables tread wiggle to shake off ice, snow and wet debris quickly. Overall, they offer solid cold weather and winter performance. Though, there are better options available.
Available Tire Sizes
Since June 2018, the Mud-Terrain T/A KM3 is available across North America in 15" through 18" rim diameters, and in 20" and 22" rim diameters. There are 54 tire sizes, inclusive of 33 extra sizes from the preceding generation.
The Mud-Terrain T/A KM3 also offers three sizes for tire upgrade options in the UTV sport and UTV multi-purpose segments. KM3 UTV tires are tuned for specific performance of UTV rigs.
Warranty
The Michelin Mud-Terrain T/A KM3 comes with the standardized limited warranty to cover defects in materials and workmanship. The life warranty is applicable on the original usable tread, or 6-years from the buying date (proof of purchase required), whichever comes first.
Customer Reviews
The majority of buyers have praised the sturdy sidewalls that are able to cope with kerbs and stumps, which makes them durable on the road as well as off it. Many motorists have registered an operative age of 60,000 to 80,000 miles for these KM3 tires. They function well on wet as well as dry surfaces. Moreover, buyers are appreciative of the traction of these tires in various elements and also some snowy conditions. Also, the KM3s produce minimal noise on the highway.
Nonetheless, some customers have reservations about the performance of these Michelin tires on water-soaked surfaces. Also, they have a tendency to clog up with mud.
Conclusion
Michelin is a Auvergne-based French tyre manufacturer, and its North American operation yields $10.76 billion through 19 plants across 16 locations. The company commercially manufactures tires for airplanes, vehicles, farm equipment, motorcycles, and bicycles, and heavy duty trucks. Michelin is considered the second largest international tyre manufacturer after Bridgestone.
Its latest offering, Mud-Terrain T/A KM3 is the 5th Gen tire of its BFGoodrich brand, and is engineered with modern technologies to improve your automobile's climbing, toughness, and traction over rock and in the mud.