BFGoodrich Mud Terrain T/A KM2 Tire Review & Rating
The BFGoodrich Mud Terrain T/A KM2 is the company's high performance off-road maximum traction tire that is designed for trucks, SUV's, jeeps and other 4×4's. The second-generation KM2 features a wider footprint, increased traction, including deep snow, and a smoother, more quiet ride than its earlier counter part.
An off-road tread compound and Krawler T/A KX inspired tread combine with linear flex zones and independent tread blocks to give this tire the ability to go through anything in its path. The linear flex zones allow the tire to contour itself to the obstacles it is going over, making it possible to traverse even the roughest terrains when aired down. A side benefit to the tread block design on the KM2 is that it makes for a more quiet ride, which we feel BFG has done a good job with.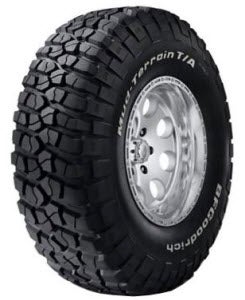 Larger voids enhance the self-cleaning abilities with this tread design than its earlier predecessor. The tire's heavy-duty sidewall lugs provide increased traction when climbing rocks, while a bruise-resistant compound adds better overall resistance to sidewall bruising. BFGoodrich has also included sidewall cords that are built into the tread, which provide 33% more strength than the first KM model.
The KM2's single-strand bead enhances ride quality for a smoother ride, while also providing increased tire uniformity by creating a better tire fit to the wheel.
Inside the tire you will find two steel belts and a 3-ply polyester tread carcass for added strength and durability. It also increases treadlife, which is an area that rated highly in online reviews from other owners. BFGoodrich has sizes available from 15-22 inches. There is also a limited warranty included on this tire.
Click Here For Current BFGoodrich Coupons
Click Here To Find Current Prices
Pros
Outstanding off-road performance in any type of terrain

Steering is very responsive

Quieter than most other mud tires

Treadlife is exceptional
Cons
Be careful on wet or icy road surfaces
Overall Thoughts
If we were going to put a set of mud tires on our personal vehicle, these BFGoodrich KM2 tires would be right up at the top of our list. That's how well we regard them. The performance you can expect from this tire is exceptional. They go through anything and never let you down. If you think we are just full of it, read the reviews from other drivers and you will quickly see what we mean.
The KM2 not only performs well, but the tread life is equally as impressive. The only area to be aware of is driving on wet or ice covered road surfaces. You have to exercise a little extra caution, which is to be expected in an M/T tire to begin with.
Overall, BFG has done an outstanding job with this tire and we highly recommend them.
What Vehicles Will The BFGoodrich T/A KM2 Fit?
(This is not a complete list of ALL vehicles this tire will fit)
Cadillac Escalade

Chevrolet Silverado, Colorado, K1500, Avalanche, S10, C2500, Blazer, Tahoe

Dodge Ram, Dakota, Nitro, 2500 Van, Durango

Ford F-150, F-250, F-350, Ranger, Bronco, Econoline Series, Expedition

GMC Sierra, Canyon, Envoy, Yukon, Jimmy, Suburban

Honda Passport

Hummer H3

Isuzu Trooper, Hombre5, Rodeo, Amigo S

Mitsubishi Montero

Nissan Crew Cab, Titan, Pathfinder

Jeep Wrangler, Cherokee, Grand Cherokee, Liberty, CJ5, CJ7

Suzuki Sidekick, Equator

Toyota FJ Cruiser, 4Runner, Tacoma, Tundra, Sequoia
Tire Sizes
15″
LT215/75R15C1 100Q W
LT235/75R15C1 104Q W
30X9.50R15/C1 104Q W
31X10.50R15C1 109Q W
32X11.50R15C1 113Q W
33X10.50R15C1 114Q W
33X12.50R15C2 108Q W
35X12.50R15C2 113Q W
16″
LT225/75R16D1 110Q W
LT235/70R16C1 104Q W
LT235/85R16E1 120Q W
LT245/75R16E1 120Q W
LT255/70R16D1 115Q W
LT255/85R16E1 123Q W
LT265/75R16E1 123Q W
LT285/75R16E1 126Q W
LT305/70R16D2 118Q W
LT315/75R16D2 121Q W
LT345/75R16D2 126P B
LT365/75R16C2 121P B
17″
LT245/70R17E1 119Q W
LT245/75R17E1 121Q W
LT255/80R17E1 121Q W
LT265/70R17E1 121Q W
LT285/70R17D1 121Q W
LT285/75R17E1 121Q W
LT305/65R17E2 121Q W
LT305/70R17E2 121Q W
35X12.50R17D2 119Q W
18″
LT285/70R18E1 124Q W
LT305/60R18E2 121Q W
35X12.50R18D2 118Q W
36X13.50R18D2 121P B
38X14.50R18D2 127P B
40X14.50R18C2 123P B
20″
LT305/55R20E2 121Q W
LT325/60R20D2 121Q W
37X12.50R20D2 120Q W
38X14.50R20D2 124P B
40X14.50R20C2 121P B
22″
LT335/55R22D2 121Q B
Price Range
Prices on the Mud Terrain KM2 range from approximately $155 and up. You may also find occasional rebates, discounts, coupons and special offers on this tire.
Click Here To Find Current Prices On All BFGoodrich Mud Terrain T/A KM2 Tire Sizes
Warranty
BFGoodrich provides a limited tread warranty on the KM2. Tire uniformity is guaranteed for one-year or the first 2/32 inch of wear. Materials and workmanship are warranted for 6-years and include free replacement during the first year or first 2/32 inch of wear. A prorated amount is given for the remaining time period or down to the final 2/32 inch of tread depth.
---