BFGoodrich Long Trail T/A Tour Tire Review & Rating
The all-season BFGoodrich Long Trail T/A Tour combines precision handling and traction with a longer treadlife. Designed for drivers of pickups, crossovers and SUV's, the Long Trail Tour features some of the latest BFG tire technology for driving on dry, wet and snow covered roads.
The all-season tread compound and symmetrical tread pattern, along with contoured shoulder blocks and a ridged center rib, provide enhanced handling and cornering power, as well as responsive steering. The tire is designed to make you feel more in control regardless of road or weather conditions.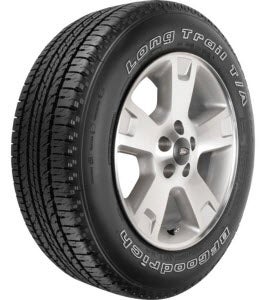 Deeper circumferential grooves and strategic sipes placed around the tread deliver increased traction and grip on wet or snow covered road surfaces. Biting edges in the tread blocks grip packed snow in winter driving conditions.
Inside the tire you will find two steel belts and BFGoodrich's unique Equal Tension Containment System, which reinforces the belts with spirally wrapped nylon for added strength and durability, and a longer treadlife. The two-ply polyester body enhances ride comfort and improves handling. BFG backs up the tire with a 60,000 mile tread guarantee.
Pros
Dry and wet traction and handling are very good

Steering is responsive and provides excellent feedback

Cornering is among best in class

Ride is comfortable
Cons
Ice traction could be just a little better

Treadlife
Overall Thoughts
The Long Trail Tour has its share of pluses and minuses to be sure. It seems to be one of those types of tires that drivers either love or hate.
We like the handling and performance on dry or wet pavement, as well as cornering stability. The steering response is equally as impressive. Traction in lighter amounts of snow is ok for the most part, but deeper snow and ice is another story. It doesn't deliver the kind of traction you need.
The biggest area of concern is in the area of treadlife. We've heard many drivers talking about not getting the miles they expected to get from the tread. However, we've also heard others speak highly of treadwear.
Overall, we feel this model is a middle to upper middle of the class performer. While not bad at any one particular thing, it also doesn't stand out in any one area as well.
Click Here For Current BFGoodrich Coupons
Click Here To Find Current Prices
What Vehicles Will The Long Trail Tour Fit?
(This is not a complete list of ALL vehicles this tire will fit)
Acura MDX SUV

Chevrolet Silverado, Tahoe, Trailblazer, Avalanche, Equinox

Chrysler Pacifica

Dodge Ram, Dakota, Durango

Ford Explorer, Expedition, F-150, Escape, Ranger

GMC Sierra, Suburban, Canyon, Envoy, Yukon

Honda Element, Pilot

Hyundai Santa Fe

Jeep Grand Cherokee, Liberty

Lexus RX 300, RX 330

Mazda Tribute

Nissan Pathfinder, Titan, Murano, Rogue, Xterra, Frontier, Sequoia

Pontiac Torrent

Saturn Vue

Toyota 4Runner, Tundra, Highlander, RAV4, Tacoma
Tire Sizes
15″
P215/75R15 100T ORWL
P225/70R15 100T ORWL
P225/75R15 102T ORWL
P235/70R15 102T ORWL
P235/75R15XL108T ORW
P265/70R15 110T ORWL
P265/75R15 112T ORWL
16″
P215/70R16 99T ORWL
P215/75R16 101T ORWL
P225/70R16 101T ORWL
P225/75R16XL106T ORW
P225/75R16XL106T ORW
P235/65R16 101T BSW
P235/70R16 104T ORWL
P235/75R16XL109T ORW
P245/70R16 106T ORWL
P245/75R16 109T ORWL
P255/65R16 106T BSW
P255/65R16 106T BSW
P255/70R16 109T ORWL
P265/75R16 114T ORWL
17″
225/65R17 102T ORWL
P235/60R17 100T BSW
P235/65R17 103T ORWL
P235/70R17XL108T BSW
P235/75R17 108T BSW
P245/65R17 105T ORWL
P245/70R17 108T ORWL
P255/65R17 108T ORWL
P255/70R17 110T ORWL
P265/65R17 110T BSW
P265/70R17 113T ORWL
P275/60R17 110T ORWL
18″
P235/65R18 104T BSW
P265/70R18 114T ORWL
20″
P275/55R20 111T BSW
P275/60R20 114T BSW
Price Range
Best prices on the Long Trail Tour range from approximately $98 and up. You may also find occasional rebates, discounts, coupons and special offers on this tire.
Click Here To Find Current Prices On All BFGoodrich Long Trail T/A Tour Tire Sizes
Warranty
A 6-year or 60,000 mile treadlife warranty comes with the Long Trail Tour. The mileage guarantee is cut in half for the rear tires if a different size is used in front. There is also a one-year or first 2/32 inch of wear guarantee on the tire's uniformity.
Materials and workmanship are warranted for 6-years and include free tire replacement during the first year or first 2/32 inch of wear. A prorated is given for the remaining time period or to the last 2/32 inch of tread depth.
---