BFGoodrich g-Force T/A KDW NT Tire Review & Rating
One look at the second generation BFGoodrich g-Force T/A KDW 2 and you will immediately notice that this isn't just another ordinary high performance summer driving tire. Designed for owners of performance sports cars, coupes, sedans and even light trucks, the KDW NT sports a cutting edge tread design to with the latest in tire technology.
Dry traction and grip in the corners is enhanced through larger tread blocks and the racing inspired unidirectional tread design. Rounded shoulders and Goodrich's"g-Control" sidewall inserts provide added stiffness to improve cornering power.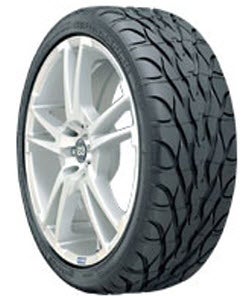 When the road surface becomes wet, the KDW utilizesits silica reinforced tread compound, deep circumferential grooves and lateral grooves to expel more water from under the tire and increase hydroplane resistance. Please note that this is a summer tire and should not be driven in winter weather conditions.
Inside the tire you will find two steel belts and BFG's exclusive Equal Tension Containment System, which uses spirally wrapped strips of nylon to provide added strength, stability and better overall contact with the pavement at higher speeds. It also improves riding comfortand treadlife. Finally, there is a rim protector built-in to aid in preventing curb damage to your custom alloy wheels.
Pros
Dry and wet handling and stability are exceptional

Grips the corners like glue

Excellent steering response

Treadlife is better than most in this class
Cons
Overall Thoughts
This second generation KDW is a pleasant surprise in how stable it is along with the way it grips the corners. You can't help but have fun driving on it, and the tread design is a head turner to be sure.
Steering response is precise and traction on wet surfaces is not a problem for this model. The trade off is a tire that has a bit more road noise and doesn't ride like a touring tire, but you can expect that from nearly any ultra-high performance summer tire.
Overall, we really like this tire and rank it in the upper half of its class.
Click Here For Current BFGoodrich Coupons
What Vehicles Will The BFGoodrich KDW 2 Fit?
(This is not a complete list of ALL vehicles this tire will fit)
Acura RSX, TL

BMW M3, 135i, 328i, 540i

Chevrolet Corvette, Camaro, HHR, Cavalier, Impala

Dodge Stratus, Neon, Ram

Ford Mustang GT, Fusion, Probe, Focus

Honda Civic, S2000, Del Sol, Accord

Infiniti G35, M45

Mazda Miata, 3, RX-8, RX-7, Protege

Mercedes-Benz SLK55, C63, SLK350, E320

Mini Cooper

Nissan 370Z, Sentra, 350Z, Maxima, Altima

Pontiac Grand Am, GTO, Firebird, Vibe, Solstice, Bonneville

Porsche 911

Scion xB, tC

Subaru Impreza WRX, 2.5RS

Toyota Camry, MR2, Celica

Volkswagen GTi, Golf, Beetle, Jetta, Tiguan SEL, Rabbit
Tire Sizes
16″
205/40ZR16 83W XL BSW
205/45ZR16 87W XL BSW
205/55ZR16 91Y BSW
225/45ZR16 89W BSW
225/50ZR16 92Y BSW
225/55ZR16 95Y BSW
17″
205/45ZR17 88Y XL BSW
205/50ZR17 93Y XL BSW
215/40ZR17 87Y XL BSW
215/45ZR17 91Y XL BSW
215/50ZR17 91Y BSW
225/45ZR17 90Y BSW
225/50ZR17 94Y BSW
235/40ZR17 94Y BSW
235/40ZR17 94Y XL BSW
235/45ZR17 94Y BSW
235/50ZR17 96Y BSW
235/55ZR17 99Y BSW
245/45ZR17 95Y BSW
255/40ZR17 94Y BSW
275/40ZR17 98Y BSW
18″
215/35ZR18 84Y XL BSW
215/40ZR18 85Y BSW
225/35ZR18 87Y XL BSW
225/40ZR18 92Y XL BSW
225/45ZR18 91Y BSW
235/35ZR18 90Y XL BSW
235/40ZR18 95Y XL BSW
235/50ZR18 97Y BSW
245/35ZR18 88Y BSW
245/40ZR18 93Y BSW
245/45ZR18 96Y BSW
255/35ZR18 94Y XL BSW
255/40ZR18 95Y BSW
255/45ZR18 99Y BSW
265/35ZR18 93Y BSW
275/35ZR18 95Y BSW
275/40ZR18 99Y BSW
285/30ZR18 97Y BSW
295/35ZR18 99Y BSW
335/30ZR18 102Y BSW
19″
215/35ZR19 85Y BSW
225/35ZR19 88Y XL BSW
235/35ZR19 91Y XL BSW
245/35ZR19 93Y XL BSW
245/40ZR19 98Y XL BSW
255/35ZR19 96Y XL BSW
265/30ZR19 93Y BSW
275/35ZR19 96Y BSW
285/35ZR19 99Y BSW
295/35ZR19 100Y BSW
20″
225/30ZR20 85W BSW
225/35ZR20 90Y BSW
245/30ZR20 90W XLBSW
245/35ZR20 95W BSW
255/30ZR20 92Y BSW
255/35ZR20 97W XL BSW
265/50R20 111V XL BSW
285/30ZR20 99Y XL BSW
295/45R20 114V XL BSW
22″
285/35ZR22 106W XL BSW
305/40ZR22 114W XL BSW
325/55R22 120/117H BSW
24″
305/35ZR24 112W XL BSW
Price Range
Prices on the KDW NT range from approximately $163 and up. You may also find occasional rebates, discounts, coupons and special offers on this tire.
Warranty
The g-Force T/A KDW is not warranted for mileage. There is a one-year or first 2/32 inch of wear guarantee on the tire's uniformity.
Materials and workmanship are backed for 6-years and include free replacement during the first year or first 25% of wear. A prorated amount is given for the remaining time period or until there is 2/32 inch of tread depth left on the tire.
---