BFGoodrich Advantage T/A Sport Set To Roll Out Aug 2016
(Apr 2016) Michelin North America has just announced that the new BFGoodrich Advantage T/A Sport is set to be rolled out in August 2016.
The BFG Advantage T/A Sport will be replacing the original Advantage T/A, which has been a popular touring all-season tire for several years running. BFG is marketing this new model as a way for drivers to have a little more fun in their daily commute.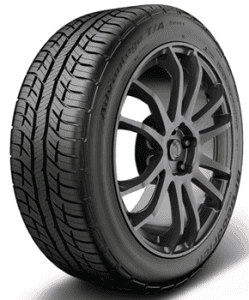 According to Jon Hausman, marketing manager for BFGoodrich Tires, "BFGoodrich Tires is a brand that encourages drivers to explore the fun that driving can provide. The overall message to drivers with active lifestyles, busy family lives or a combination thereof is simple: You don't have to settle for merely getting from point A to point B. Because performance is happening with these tires on every drive, you can have a little fun along the way.…"
BFGoodrich states that the Advantage T/A Sport will feature enhanced traction, steering response, handling and braking performance over the Advantage T/A. Treadwear is said to also be increased as well.
To achieve an increase in performance the company has added numerous improvements that include:
Locking 3-D Active Sipe Technology which adds to treadlife and overall performance.
A new all-season tread compound that sports BFG's Aqua-Flume water-evacuation technology
Next Generation ETEC (Equal Tension Containment) System which is designed to optimize the tire's footprint during cornering and high-speed situations
Next Generation g-Wedge sidewall stabilizer for added handling.
The initial release in August 2016 will feature a number of 15-18 inch sizes with T, H or V-speed ratings. BFGoodrich also says that they will be releasing the Advantage T/A Sport LT in 2017. That model will be for use on SUV's, crossovers and pickups. It will eventually replace the BFG Long Trail Tour in their lineup.
The Advantage T/A Sport will also have a 70K mile tread warranty on T-speed rated models, and a 60K mile warranty on H or V-speed rated sizes.
We will have a full review on this new tire as soon as it becomes available. You can find all of our reviews on BFG tires here: BFG Tire Reviews.