BFGoodrich Advantage T/A Sport LT Tire Review & Rating
The BFGoodrich Advantage T/A Sport LT is the company's latest all season touring light truck tire that's designed to perform at a higher level in a wide range of year-round driving conditions. Built for light trucks, crossovers and SUV's, the Advantage T/A Sport LT is billed as providing "four seasons of traction".
BFGoodrich uses an advanced silica-enhanced tread compound, symmetric tread pattern and locking 3D Active siping technology that combines to deliver more grip and traction when traveling on wet pavement or in light snow.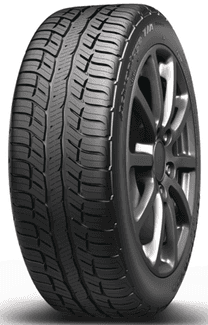 The BFG Sport LT also features the 3-peak mountain/snowflake emblem, meaning it exceeds the industries severe snow service requirements. That's not something you find on many all-season tires.
Aqua-Flume technology prevents hydroplaning by dispersing excess water from these tires through the unique sweeping cross grooves. Thanks to its symmetrical design and ETEC System technology, which optimizes the tires' footprint, you'll find added cornering stability and increased dry/wet handling performance. A continuous center rib further improves road feel and gives the tire a smoother, more responsive ride quality.
As well as having advanced external features that enhance the performance and quality of this tire, the BFGoodrich Advantage T/A Sport LT has an internal two-ply polyester body casing, g-Wedge sidewall stabilizer and nylon-reinforced steel belts, that add to the durability and stability as well.
BFGoodrich offers a large number of 16 to 20-inch sizes, with either a T, H or V-speed rating available. A 60K or 65K mile tread warranty is also included depending on the speed rating of the tire.
Pros
Wet and dry grip, traction, braking and handling
Cornering in dry and wet conditions
Hydroplaning resistance
Cons
Comfort
Noise
Fuel efficiency
Overall Thoughts
In most cases, light truck, SUV and crossover drivers have been satisfied with the BFGoodrich Advantage T/A Sport LT tire, but there are some exceptions.
The first thing most people notice about the Advantage T/A Sport LT is its distinctive appearance. Most drivers either love it or don't really care for it. We do like the look it delivers here. Performance on dry and wet pavement is very good. It corners and has the type of stability you find among other top tires in this class.
Traction on wet pavement is good, but not great. While it resists hydroplaning quite well, we've heard a few drivers mention some wheel spin from a stop on wet streets. On the negative side, a few drivers have stated the tires are not as comfortable or quiet as some of the other higher rated models.
Overall, we feel the BFGoodrich Advantage T/A Sport LT is a good quality, reliable all-season tire. While perhaps not up to the best in class models like the Michelin Premier LTX, Bridgestone H/L Alenza Plus, Continental LX20 or Pirelli Scorpion Verde AS Plus, we rate this tire in the middle of the class.
What Vehicles Will The BFGoodrich Advantage T/A Sport LT Fit?
(Please note that this is not a complete list of all vehicles this tire will fit.)
Chevrolet Silverado, Tahoe, Avalanche, S10, Suburban, K2500, Colorado, Blazer
Dodge Ram, Durango, Dakota
Ford Expedition, Escape, Ranger, Bronco, F-150, Excursion, Explorer
GMC Yukon, Sierra, Canyon
Honda Element, CR-V
Hummer H3, H2
Isuzu Trooper
Jeep Wrangler, Grand Cherokee, Liberty
Land Rover Discovery
Lexus GX470
Mazda B4000
Mercury Mountaineer
Mitsubishi Montero
Nissan Titan, Xterra, Frontier, Sequoia
Ram Truck
Toyota Tacoma, Tundra, FJ Cruiser, Sequoia, 4Runner, Land Cruiser, Highlander
Tire Sizes
16″
215/70R16 100H BSW
215/70R16 100T BSW
225/70R16 103T BSW
235/70R16 106T BSW
245/70R16 107T BSW
245/75R16 111T BSW
255/70R16 111T BSW
265/75R16 116T BSW
17″
225/65R17 102H BSW
225/65R17 102T BSW
235/65R17 104T BSW
245/65R17 107T BSW
245/70R17 110T BSW
255/65R17 110T BSW
265/65R17 112T BSW
265/70R17 115T BSW
18″
235/60R18 103V BSW
235/65R18 106H BSW
235/65R18 106T BSW
245/60R18 105H BSW
255/55R18/XL 109V BSW
265/60R18 110T BSW
255/65R18 111T BSW
265/70R18 116T BSW
19″
225/55R19 99H BSW
235/55R19 101H BSW
245/55R19 103T BSW
255/60R19 109H BSW
20″
235/55R20 102H BSW
245/50R20 102H BSW
275/55R20 113T BSW
Price Range
BFGoodrich Advantage T/A Sport LT prices range from approximately $121 and up. You may also find occasional rebates, discount prices, coupons and special offers on this tire.
Warranty
BF Goodrich provides a 6-year or 65,000 mile tread warranty on T or H-speed rated sizes, and a 60,000 mile warranty on V-speed rated sizes of the Advantage T/A Sport LT. Tire uniformity is guaranteed for one-year or the first 2/32 inch of wear.
Materials and workmanship are warranted for 6-years and include free replacement during the first year or first 2/32 inch of wear. A prorated amount is given for the remaining time period or down to the final 2/32 inch of tread depth.
---