BFGoodrich Advantage T/A Tire Review & Rating
With responsive all-season handling and an attractive tread design, the BFGoodrich Advantage T/A is engineered to provide a long treadlife and better driving comfort for all types of coupes and sedans.
The tread on the Advantage T/A sports a symmetric non-directional pattern and is formulated with a silica-enhanced tread compound to give the tire improved year round performance. Rigid shoulder blocks increase lateral strength and provide more crisp cornering, while the continuous center rib adds better overall stability and steering response.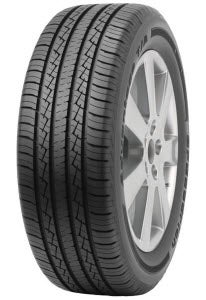 When the road surface is wet, the Advantage T/A uses its g-Grip inter locking sipes to add more bite and more responsive handling. Wide circumferential grooves evacuate more water from under the tread and reduce the risk of hydroplaning, with wet grip being an area that is often mentioned in reviews by other drivers as a real plus.
Inside the tires you will find twin steel belts that are spirally wrapped with BFGoodrich's unique Equal Tension Containment System. It provides added strength and durability, as well as a better contact patch, for driving at higher speeds. A g-Wedge sidewall stabilizer improves sidewall strength, but not at the expense of ride comfort.
The Advantage T/A comes with a 60,000 or 75,000 mile tread warranty depending on the speed rating of the tire selected.
Pros
Dry traction is above average for this tire

Wet surface traction and handling is very good

Ride is smooth and comfortable

Excellent treadwear
Cons
Road noise may be an issue for some as the tire wears
Overall Thoughts
The Advantage T/A is one of the better touring all-season tires for traction in all-weather conditions, and in providing a smooth comfortable ride. The tire performs well in everyday handling on dry pavement, as well as on wet road surfaces.
Road noise is not bad, but may become a little more pronounced as the tire ages, but it has not been anything unbearable. Treadlife is longer lasting than many in this class, and comes backed for up to 75K miles.
Overall, the BFG Advantage TA delivers good value for the money and performance it provides, making it a nice choice in new all-season tires.
What Vehicles Will The Advantage T/A Fit?
(This is not a complete list of ALL vehicles this tire will fit)
Chevrolet Malibu, Impala, Cavalier, Lumina

Chrysler 300C, Sebring

Dodge Caliber R/T, Dakota, Grand Caravan, Stratus

Ford Flex, Thunderbird, Mustang, Fusion

Honda CR-V, Accord

Hyundai Entourage

Infiniti G35

Kia Sedona

Mercedes-Benz C230

Nissan Altima, 370Z

Pontiac G6, Sunfire

Subaru Outback, Legacy, Forester

Toyota Prius, Camry, Sienna, Avalon

Volkswagen Jetta

Volvo 940
Tire Sizes
14″
185/65R14 86T BLK
P185/70R14 87T BLK
P195/70R14 90T BLK
15″
185/60R15 84T BLK
185/65R15 88H BSW
185/65R15 88T BLK
195/60R15 88H BSW
195/60R15 88T BLK
195/65R15 91T BLK
195/65R15 91H BSW
205/60R15 91H BSW
205/65R15 94H BSW
205/65R15 94T BLK
P205/70R15 95T BLK
215/60R15 94H BSW
215/70R15 98T BLK
16″
205/55R16 91H BSW
205/55R16 91T BLK
205/60R16 92H BSW
205/60R16 92V BSW
205/60R16 92T BSW
215/55R16 97H BSW
215/60R16 98V BSW
215/60R16 95H BSW
215/60R16 95T BLK
215/65R16 98T BLK
225/60R16 98T BLK
225/60R16 98H BSW
225/60R16 98V BSW
225/65R16 100T BSW
235/60R16 100H BSW
235/65R16 103T BSW
17″
215/50R17 95V BSW
215/55R17 94V BSW
215/60R17 96T BSW
215/65R17 99T BSW
225/50R17 94V BSW
225/50R17 94T BLK
225/55R17 97T BSW
225/55R17 97H BSW
225/55R17 97V BSW
225/60R17 99T BSW
225/65R17 102T BSW
235/55R17 99H BSW
235/60R17 102T BSW
18″
215/55R18 95T BSW
225/50R18 95T BSW
225/60R18 100H BSW
Price Range
Advantage T/A prices range from approximately $88 and up. You may also find occasional rebates, discounts, coupons and special offers on this tire.
Warranty
The Advantage T/A is warranted for 6-years or 60,000 miles for H & V-speed rated tires, and 6-years or 75,000 miles for T-speed rated models. There is also a one-year or first 2/32 inch of treadwear guarantee on tire uniformity.
Materials and workmanship are covered for 6-years and include free replacement during the first year or first 25% of wear. The amount is then prorated for the remaining time period or down to the last 2/32 inch of tread depth on the tire.
---