Best Windshield Repair Kits
These DIY windshield repair kits make your car safer and potentially save you hundreds of dollars in glass repair.
There are few things as aggravating or annoying as a chip or crack in your windshield. The loud crack of impact when a rock or chunk of road debris kicks up at your screen is one thing, the distracting glare caused by the crack when the light hits it is quite another.
Not only that, small cracks and chips can spread quickly into larger cracks. These can lead to vision problems, traffic tickets and repair demands, or worse – the failure of your windscreen altogether. The good news is that these days it's easier than ever to repair your glass.
Earlier windshield repair kits weren't as good as they are now, and the mall parking lot vendors didn't do a lot to improve their reputation. But the cowboy days are gone, and professionals now do this job so well you can often not tell where the offending damage was in the first place.
DIY kits have come a long way too, and a small amount of care and patience could give you pro-level results for a fraction of a cost. When you consider the cost of a modern windshield replacement can run into the thousands of dollars, even the more expensive kits quickly become worth their weight.
The best windshield repair kits use a clear resin to fill in the damage and cure in place to restore the strength of your glass. They dry clear, which prevents light flashes and reduces the unsightly nature of the damage. More importantly, they prevent the chip or crack spreading further.
Here are our favorite windshield repair kits.
---
1. Editor's Pick: 3M Windshield Repair Kit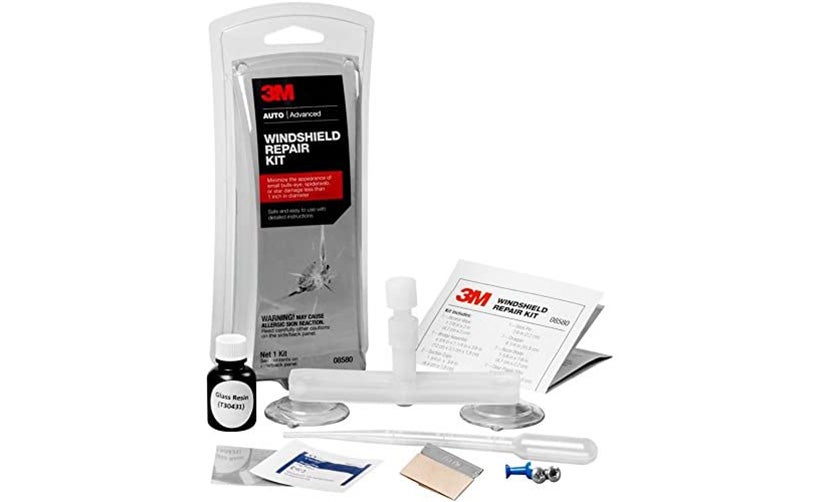 3M 's windshield repair kit is as effective and reliable as you'd expect from the household name in chemical and adhesive products.
A household name in adhesive, 3M is also a much-adored manufacturer of resins and other automotive grade chemical and car-care products.
It's one such resin that makes this repair kit such a high performer, with an ultra-clear finish that's as high-grade as they come, and it will repair damage as large as one-inch wide. To use it, you first use the included stick pins and razor to tidy up any loose glass dust or chunks, and then set up the bridge assembly using two suction cups. You load the resin into the injector and inject it into the chip to repair. This isn't the most user-friendly bridge assembly to use, and there are more robust options on the market, but for the price and the high-quality resin, we think the 3M system is the way to go.
We advocate users take advantage of 3M's instructional videos before using this system, and that you pay special attention to preparing the surface before you begin the repair. Do those things and you'll struggle to find a better result from any other single-use repair product out there.
Pros:
Crystal-clear finish
Reliable results
Cons:
Takes patience to use
Single use only
---
2. Easiest to Use: Permatex Windshield Repair Kit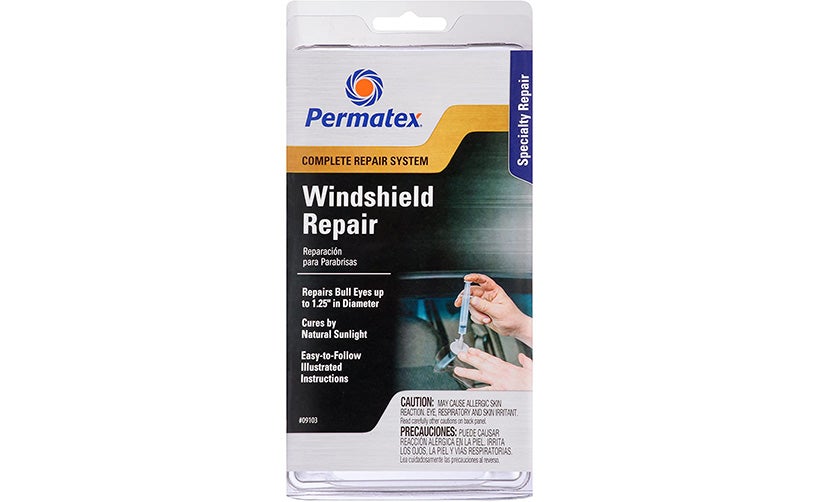 The Permatex kit features easy-to-follow photo instructions and makes short work of even bigger bullseye chips.
Another familiar name in car-care products and resins, Permatex offers an effective and easy-to-use windshield repair system for bullseye chips especially.
The kit features a disc-mounted injection tube that you fill with resin via special syringe in order to guide the solution into the chip on your glass. The kit also includes a thumbtack and razor blade for preparing the area and cleaning up post-repair. The disc-mounted tube is easier to use than a bridge, but it does make it more important to line-up the crack properly.
You can use it on just about any sort of chip, but it shines on bullseye chips. It's also effective on surprisingly large defects up to 1.25" across. You can't use it on straight cracks, however. One factor that makes this easy to use is the resin. It doesn't require any mixing – but it does cure fast, so make sure you're ready to apply it before you open the tube. You can use the system to fix several cracks, but you will need to do them all at once as it's a single-time system.
Pros:
Works on big cracks
Easy to use
Cons:
Single use only
Not as stable as a bridge injector
---
3. Best for Long Cracks: Rain-X Fix a Windshield Repair Kit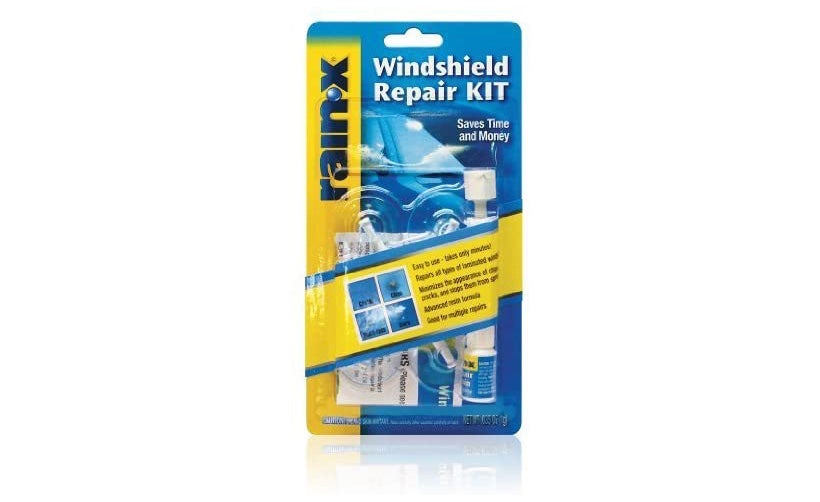 Cracks are nearly impossible to repair with most products, but Rain-X gives DIY repairers a chance where others give up.
Rain-X is one of the few products that the manufacturer claims can repair cracks as big as 12-inches long. The reason Rain-X can do what others fail to do is a specially designed applicator tip that allows you to apply the fluid as if you were using white-out, and a highly viscous resin that flows easily but cures quick and clear.
You'll need to get your hands on this stuff quickly after damage occurs, because if you wait too long, you'll get water and dust in the crack that makes it harder for the resin to cure evenly. If you act fast, you'll quickly arrest the cracking and prolong the life of your windshield. You can also use Rain-X windshield repair on chips and dents, but it is harder to use in those applications than other products because of how runny the resin is.
The kit includes a relatively large bottle of resin, as well as the bridge assembly applicator and even a razor for clearing up the area before and after repair. This is the best option if you have a long crack in your glass.
Pros:
Effective on glass
Clear instructions
Cons:
Less effective on chips
Resin is hard to use
---
4. Best Professional Grade Setup: American Mini Windshield Repair Kit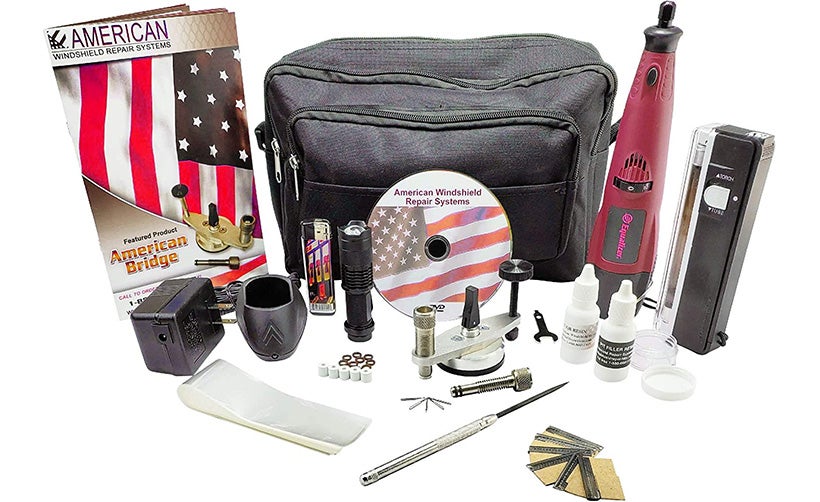 If you've ever wanted to start your own mobile windshield repair company the American Windshield Repair Systems mini kit has you covered.
American Windshield Repair System's mini repair kit is a serious business kit for full, professional-grade repairs to all kinds of automotive glass damage. It includes a small Dremel tool for cleaning out the damaged glass, a UV light for activating and curing resins, pick and stylus for cleaning out chips, a robust metal bridge, and a handy carrying bag.
There's also pit filler solution, curing resin, and curing strips, with enough material to perform 50 repairs. At this price, you'll want to make sure you're getting all 50 in too, and drivers assessing this option are bound to suffer some sticker shock. When you compare this price to a single-use option though you'll see it's great value for money, with this costing about 25 times what single-use systems do. The value proposition only grows if you opt to turn this one into your tool of choice for your new gig.
Pros:
Professional-grade system
Cost effective over time
Cons:
Sticker-price shock
Overkill in many cases
---
5. Runner-Up Professional-Grade Setup: RockPro Commercial Windshield Repair Kit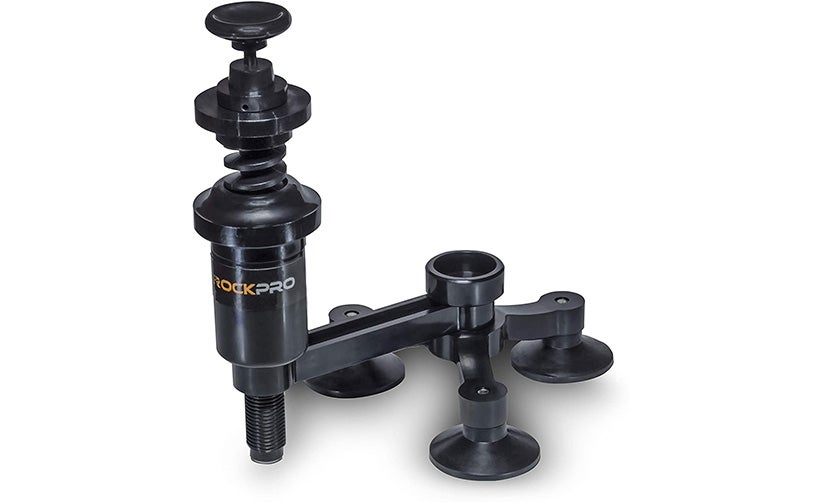 Fleet owners and professionals will get value from this pro-level windshield repair kit from RockPro.
RockPro's heavy-duty and reusable repair system includes eight cartridges of resin in two formats. Hot resin is designed to use in temperatures over 75-degrees Fahrenheit and Cold are for use between 50 and 75 degrees. There are also filler strips and curing strips which help finish off the repair job. Refill resin and curing strips are available.
The tool itself is a robust and well-designed bridge unit made of metal. It is easy to secure in place on your windshield and even easier to load resin into your defect. It can be used on cracks, starbursts, bullseye chips, and spider cracks. Inside the blow-mold carry case you'll also find tools for cleaning out the chip before applying resin and scraping the windshield clean afterwards. Resin cures in 10 minutes under UV light and can be easily cleaned afterwards. Use it in the shade for best results.
This is an expensive, multi-use tool that is designed for regular duty – and like the product above, could even be used for those of you looking to start your own windshield repair side hustle.
Pros:
Multi-use tool
Excellent results
Cons:
Price
A tad excessive for most users
---
6. Most Accurate: YOOHE Car Windshield Repair Kit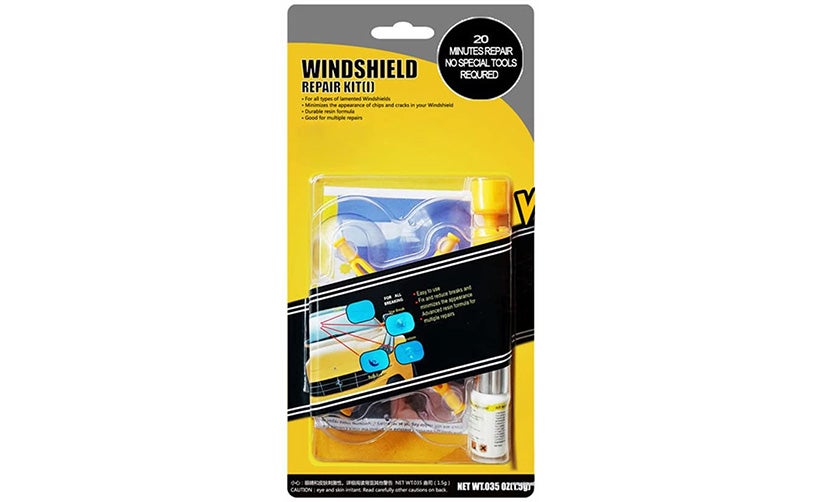 YOOHE's bridge-system makes it easy to accurately apply resin to your damaged windshield even if you're a beginner.
This affordable and durable system from Yoohe helps you get a clean and accurate fitment over your defect and apply the right amount of resin thanks to its surprisingly well-made and well-designed bridge system. The four suction cups and wide screw-down resin chamber make it easy for even the most ham-fisted DIYers (of which I am one) to make repairs to their class.
The system works on cracks, chips, and dents, and is easy to use. You simply apply the resin, then use the curing film over the top and let the sun cure the repair in minutes. Then remove the bridge, clean off any excess, and you'll be rewarded with clear results and reinforced glass where before there was an ugly crack.
The bridge can be reused, but the resin supplied is small so you might want to keep the bridge and experiment with a different resin on your next job. The problem is that at this price, it's just as effective to buy a new kit altogether if and when the time comes.
Pros:
Bridge system makes repair easy
Affordable
Cons:
---
7. Fastest System: Loctite Windshield Repair Kit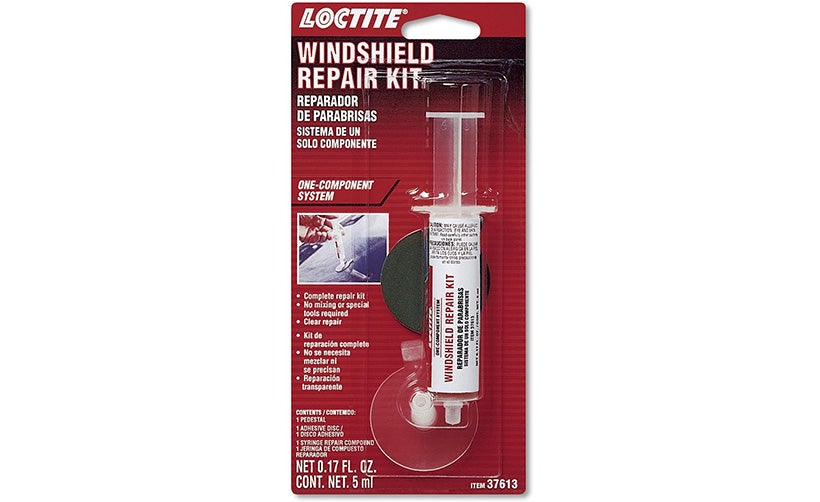 Busy drivers will benefit from the speedy repair times you get with Loctite's windshield repair kit.
Loctite Windshield Repair is a single-use solution that is so simple and fast to use you only need one hand to do it. If, like your writer, you're the impatient type, this system will help you quickly deal with that bullseye chip you got on the way to work and then move on with your day.
Its fast-curing resin works best on those types of smaller chips caused by gravel spray or rocks, and quickly acts to prevent damage spreading across your windshield. This is especially effective if you're mid-way through a long road trip and get a stone chip, and you need to quickly seal the issue so it will last the rest of your journey.
On the downside, users report inconsistent results, and it is easy to push down too hard on the plunger. If you do that without pulling up on the tabs simultaneously, you can spread cracks as you try to repair them.
Pros:
Affordable
Super fast repair time
Cons:
Tricky to get right
Inconsistent results
---
8. Honorable Mention: Blue Star Do It Yourself Windshield Repair Kit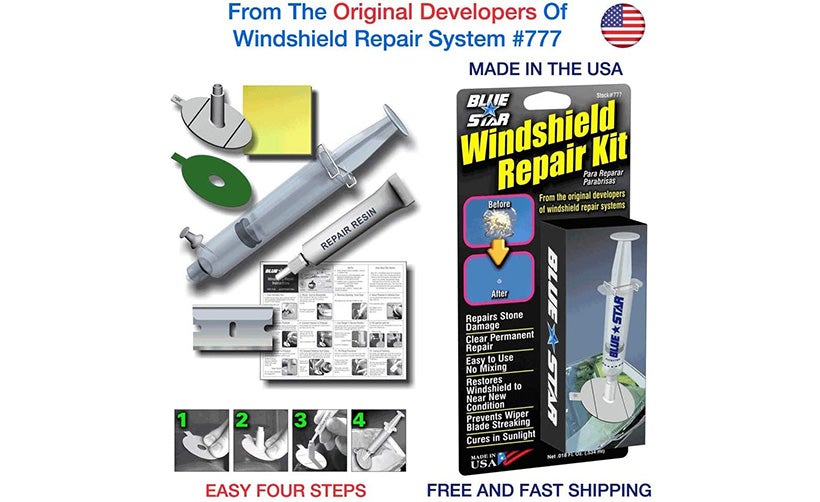 This made-in-America windshield repair kit includes a simple disc-mount resin applicator and all the tools you need for a one-off repair.
We can't complete this list without a made-in-America original, and in this case that's the Blue Star windshield repair kit. Like other kits here, you get a disc-mounted resin applicator, a syringe to load the resin into that chamber, enough resin for one-time use, and a razor to clean out the defect before you repair it.
The system is as effective as any others here, and easy to use, with special points awarded for the clear instructions which are illustrated with photos printed on the back of the pack. Just be careful opening the package because it's easy to destroy the instructions doing so.
Like many here, you can't use this on linear cracks or spider cracks, but it will do a solid job of cleaning up and strengthening your window after it's hit by star chips.
Pros:
Made in America
Affordable
Cons:
Single use only
Disc applicator isn't as good as a bridge
---
Spiders and Starbursts and Bullseyes – oh my!
What can I fix with a DIY windshield repair kit?
Your ability to quickly and easily repair your windshield comes down largely to what type of damage you have. The main types of chips and cracks are bulleyes, spider cracks, linear cracks, and starbursts.
Bullseyes are relatively simple. They feature a circular indent, usually smooth, and are caused by metal debris or larger stones – especially pea gravel.
Starburst chips feature a chip with small cracks spurring off the sides. They're usually caused by jagged rocks or sharp impacts. They can quickly feed a larger crack if left unchecked, and often contain a lot of glass dust and debris. It's important to pay close attention to these as you clean them out.
Spider cracks can be repaired if you get to them quickly, and usually come out with a better finish than the other types of damage we've mentioned here.
Long cracks are the toughest defect to repair because it is hard to get resin to flow into them evenly and cure. Any crack that is growing quickly or that goes from one side of your windshield to the other will require a replacement.
Windshield Repair Tips
Remember to always read the instructions carefully, always clean your glass thoroughly, and to exercise patience and care when repairing your windshield. A DIY kit can be a cost-effective alternative to professional repair or full glass replacement, and at the price of most options here it's well worth the attempt, even if you don't get it right the first time.