Best Tire Storage Racks
A lot of our lifestyle depends on the weather. As seasons change, we tend to change our attire, diet and other habits. The same is the case for cars — as temperatures change, you need to mount tires that suit the outside weather.
And considering the unprecedented temperature shifts due to global warming — many Americans now keep two sets of tires, i.e., for summers and winters.
Which brings us to the main question: how can we safely store tires when not in use?
Many car owners have them laying around in their backyard or garage, but the problem is it can make the space look cluttered.
Tire storage racks provide a safe place to store tires! If you want to buy a tire storage rack, you will be overwhelmed with the options available in the market.
To help you make a better decision, we reviewed and compared the top sellers in the market.
Things To Consider
Here are a few things you should consider when buying a tire storage rack:
Choose a design that you like and one that can easily fit your space. The right design can accommodate all your off-season tires. The design should not overwhelm the space instead provide a safe place to store the tires.
You also have to consider the sturdiness of the rack. The tires, along with their rims, can be quite heavy. Choose a tire rack that is sturdy and able to hold the load of at least four tires.
The more storage space you have, the better. So make sure the rack you are planning to buy can store at least four tires.
You don't want to end up with a storage rack that cannot even store a set.
Often people prefer racks that can be assembled easily to save money on labor. Do ask around about the installation of the tire rack before you buy it. You would not want the tires falling on the floor and bouncing around in the garage.
Types Of Tire Storage Racks
Depending on the available space in your garage, you can choose from any of the following options:
1. Wall-Mounted Tire Racks
The racks can be placed on any of the walls with nuts and bolts. You can also install the tire rack in your basement, and save up a lot of space.
2. Foldable Tire Rack
The perfect solution for small spaces — when not in use, you have the option to fold away the tire storage rack.
3. Standing Floor Style Tire Rack
A standing rack has one to two rows for storage. And are a good choice if you want to store tires for multiple vehicles.
The Best Tire Storage Racks
Here are our top picks:
A perfect choice to keep your seasonal tires — this wall mounted tire storage rack can neatly place four standard-sized tires.
The HyLoft 01031 has two width options. You can either use the usual 32-inch frame or extend it to 48 inches.
It has strong arms on each side to shoulder the weight of tires. But if you have big tires, then you may have some problems.
The rack is built from an all-steel material, which allows it to hold 300 pounds of weight. The rack is resistant to scratches, so it will look new for a good number of years.
Installing the unit is quick and easy, and all needed parts come with the rack. The best part is when not in use, you can fold the rack and put it away.
The MaxxHaul 70489 is a wall-mounted tire storage rack that can be placed anywhere for storage. The storage rack can safely house your off-season tires so you can use them next year in season.
You have the option to choose between two lengths. You can use the usual 32-inch frame or extend it to 48 inches.
The arms of the rack hold the tires in place, so you do not have to worry about the tires rolling out. Also, when not in use, you can fold the rack and put it in away.
The MaxxHaul 70489 is made of durable steel, which makes it strong enough to hold 300 pounds. The best part is that the rack is easy to install and anyone can assemble it.
Whether you want to install a tire storage rack in your garage, yard, or any other place, the Ultrawall Tire Rack is a good option to go for.
No matter what the size of your room or garage is, the rack will fit the room, and your tires remain protected.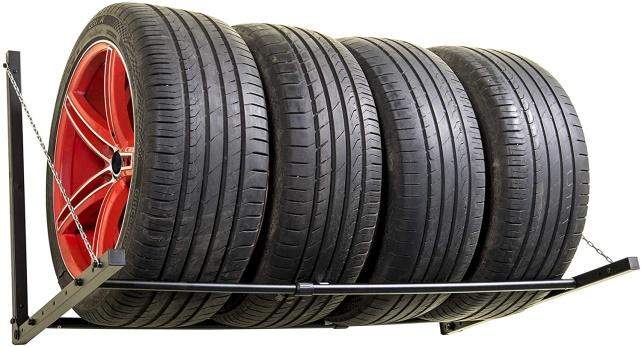 You can place up to four standard tires on the stand. When not in use, you can fold and store the rack. Like other models, the length of the rack can be adjusted, i.e., 32 inches or 48 inches.
Thanks to solid steel construction, it can hold a maximum weight of 200 pounds, which is enough to hold four standard tires.
If you need a tire storage rack that can withstand a considerable amount of weight — the Edsal TRB6012 is the right choice for you.
It has a shelf like design with the option to adjust shelf height. Additionally, it can store up to 1,000 pounds of weight on its three shelves.
You can store tires for multiple cars with the Edsal TRB6012. The body of the rack is coated with an enamel finish, which gives it a sleek look.
Installing the Edsal TRB6012 is quite simple — no nuts and bolts required, you just need a rubber mallet.
Key Takeaways
You should buy a storage rack that best suits your needs and lets you utilize the space well in your garage.
If you use a single set of wheels throughout the year, then you do not need to invest in a tire storage rack. But if you switch tires every season, which you should, it is best to invest in a quality storage rack.
If you are still unsure, check out these Amazon customer recommendations to pick a rack for yourself!