Best Jack Stands
This guide to the best jack stands for your garage will keep you safe when working on your car, truck, or SUV.
Every backyard mechanic and do-it-yourself car enthusiast understands the risk of working underneath a vehicle. High-quality jack stands are an absolute must for any garage or driveway and will quite literally be the difference between life and death if anything goes wrong. Hydraulic jacks, scissor jacks, and vehicle lifts are all prone to failing and can move or shift if your surface isn't entirely level. An immovable jack stand offers not only stability and security, but also clearance and support to make your life easier when you're on the tools.
The best jack stands offer durability, a wide footprint to maintain stability, and a high weight rating. We recommend always choosing a jack stand that is rated beyond the weight of your vehicle. You can find that number in your owner's manual or the OEM website, but as a rough guide you'd want at least a 3-ton jack stand for most sedans, and at least a 6-ton jack stand for trucks.
For best results always buy your stand from a reputable manufacturer. Here are some of our favorites.
1. Editor's Pick: Torin AT43002AB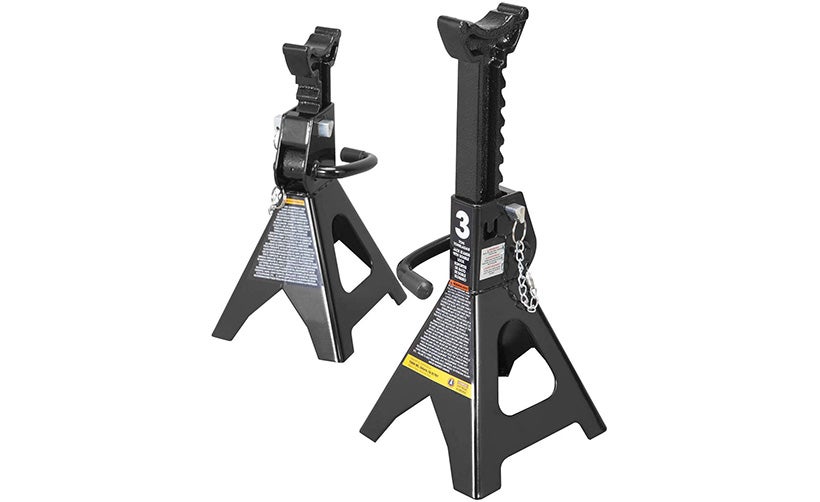 The AT430002AB model from Torin is an entry-level alternative to the company's Big Red range.
Torin is one of the bigger names in jack stands, and while most know the company for its very good Big Red range of immovable stands, this more affordable option is ideal for most home use. The set is individually rated for 3 tons (6,000 lbs). Dual-lock security is provided thanks to a robust steel pin that secures the ratchet bar even further. It's a redundant safety feature that you'll appreciate when under your ride.
With a footprint of 7-11/16″ by 6-7/8″ this is a smaller unit than others, which helps with storage but hurts stability a little. This setup also has a limited height range at 11-1/4″ minimum and 16-3/4″ max. Drivers of higher SUVs and trucks might need to look elsewhere, but those vehicles typically demand higher weight ratings anyway.
We like this setup because it suits most vehicles and use cases without breaking the bank. The set meets American Society of Mechanical Engineers (ASME) safety stands. Torin backs the AT4300002AB model with a one-year manufacturer's warranty.
Key Specs
Max lift height: 16-3/4"
Max weight (each): 3 tons (6,000 lbs)
Footprint (LxW): 7-11/16″ x 6-7/8″
Pros:
Price to quality ratio is high
Double-locking pins
Cons:
Narrow footprint
Lift height range
---
2. Best for Heavy Equipment: OTC 22-ton
This pair of 22-ton jack stands from OTC is capable of supporting the heaviest farm equipment, machinery, and trucks.
The OTC (Owatonna Tool Company) SO22 is a two-pack of massive 22-ton jack stands with enough strength to support up to 88,000 lbs between them. The gusseted base measures 11" by 11" and is baked in enamel for long-term corrosion resistance. Three positions allow a lifting range of between 12″ and 19.5", which is lower than you'll need for some trucks, but perfect for shorter heavy machinery including tractors and bobcats.
Welded vanes and boxed, welded supports provide protection against twisting forces and that large, flat base helps prevent these units sinking into asphalt. A heavy-duty steel pin locks the lifting bar in place. Each stand weighs 40 lbs.
This massive weight rating and robust design makes these one of the safest units you'll find for heavy-duty use.
Key Specs
Max lift height: 19.5"
Max weight (each): 22 tons (44,000 lbs)
Footprint (LxW): 11″ x 11″
Pros:
Huge weight capacity
Durable
Cons:
---
3. Best High Lift for Home Use: Pro-Lift T-6093D
Pro-Lift's double-locking stands are a highly secure set of jack stands for light duty use on the driveway or at home.
The T-6093D jack stand set from Pro-Lift is designed for ease of use on higher vehicles in light-duty home garage settings. Each single pack comes with two distinctive gray and red stands rated for 6 tons as a pair or 3 tons individually. This is important to note, as the rating on the box doesn't mean each stand can withhold 6 tons.
Pro-Lift builds to American National Standards Institute (ANSI) and the ASME standard for Portable Automotive Lifting Devices (PALD). PALD is the previous name for the Portal Automotive Service Equipment (PASE) and has the same standards.
We like the contrasting colors as they make for easier visibility in low light settings – which includes the area underneath your vehicle. Where the jack stand really holds up (get it?) is in the ratchet bar and pin lock design. Stamped heavy-duty steel provides robust support, and the triangular pin makes for a more secure and stable lock than round bars offer.
With an 8″ by 9" stance and reinforced legs, this set is great for awkward driveways where stability is harder to come by. The lifting range of 16″ to 23 -1/2" also makes this a great set for larger vehicles – though always be wary of using a 3-ton jack on a heavy vehicle like a truck or body-on-frame SUV.
Key Specs
Max lift height: 23-1/2"
Max weight (each): 3 tons (3,000 lbs)
Footprint (LxW): 8-3/8″ x 8-7/8"
Pros:
Triangular locking pin
Stable footprint
Cons:
Not for lower sedans
Listed rating is per pair
---
4. Best All-in-One: Powerbuilt 3-Ton Bottle Jack with Jack Stand
The popular two-in-one jack and jack stand from Powerbuilt offers safety and convenience for home users.
The Powerbuilt Unijack is an innovative option for home use that gives you the convenience of a bottle jack and security of an immovable stand in one unit. It has a 3-ton rating making it a lighter-duty tool best used for working on wheel changes or small jobs under just one corner of your car, truck, or SUV. For that reason, we don't mind that this system is sold in singles and not in pairs.
With a an 11″ to 21″ lift range, it will handle most higher vehicles, but you'll need to start the process with a smaller jack if you have a sedan or low-riding SUV. We like the robust locking pin, which does offer all the stability you'd expect from a jack stand, and we particularly appreciate the wide, flat base which makes this a secure option on softer asphalt or even gravel driveways. A redundant locking handle helps provide added security for the system as well.
This system is bulky and weighs a stout 22 lbs, which hurts the convenience factor a little, but many drivers appreciate the innovative combination for their home garage.
Key Specs
Max lift height: 21"
Max weight (each): 3 tons (6,000 lbs)
Footprint (LxW): 9-1/2″ x 9-1/2″
Pros:
Jack and stand in one
Flat base
Cons:
---
5. Best High-Lift Jack: Sunex 1410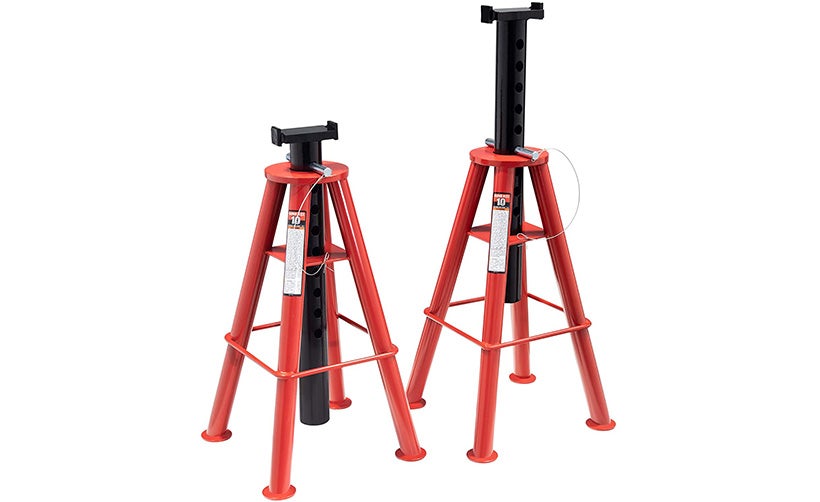 A whopping 46.5" lift height makes this 10-ton duo from Sunex ideal for lifted trucks and 4x4s.
Sunex's 1410 series of high-lift jacks offers a huge 46.5" lift height and 10-ton capacity for drivers with lifted or modified trucks, 4x4s, or tractor trailers. The minimum height is 28.1" and there are 8 positions through which to fit the heavy-duty securing pin.
With that much height range you'll need a steady base and Sunex supplies that courtesy of four hefty legs spaced 13.5" apart with 3" foot pads at the ends. There is a long 3" saddle at the top with locating lugs designed to help secure the saddle on frame rails or box gussets, but there is no V-shape option for round axles or odd-shaped suspension pieces.
The pins are secured with steel chains to prevent them being lost, and they're oversized to prevent sheering. Sunex powder coats the stands in vivid red and the bar in black for visibility and corrosion resistance. Some users complain that the packaging isn't robust enough for these heavy and bulky units, but almost everyone raves about the height and effectiveness for big vehicles.
Key Specs
Max lift height: 46.5"
Max weight (each): 10 tons (20,000 lbs)
Footprint (LxW): 13.5" x 13.5"
Pros:
Cons:
Flat saddle
Weak packaging
---
6. Best Low-Profile Jack Stand: Jackco 3 Ton Capacity Aluminum Jack Stands
Lowriders will love the low-profile stand set from Jackco with its 9.5" minimum lift height.
Jackco's high-grade aluminum jack stands offer a lightweight, low-profile stand for sports cars and lowriders thanks to its short 9.5" minimum height. That lift height ranges up as high as 15.25" with six adjustment positions too, and a wide, 2" saddle makes this a great option for more delicate unibody frames and bodywork.
The flat base has a 7" diameter, which offers decent stability and protection for your garage floor. This is great for those of you who do wheel alignments or suspension adjustments as you can support the car without using the suspension mounts or components. Most low-profile stands have an 11" minimum height, making this a specialist option for those of us who like it low and lean. We also like the clever aluminum construction which makes them easy to handle without compromising strength.
As with all things related to performance vehicles or modified rides, these jack stands are more expensive than more mainstream offerings, but hey, you've got to pay to play, right?
Key Specs
Max lift height: 15.25"
Max weight (each): 3 tons (6,000 lbs)
Footprint (LxW): round base, 7" diameter
Pros:
Ultra-low profile
Lightweight
Cons:
---
7. Most Cost Effective: TONDA Jack Stands
Tonda offers a cheap immovable jack for occasional light-duty use where small and simple stands will suffice.
This budget option from Tonda will handle light duty use in most driveways, making it a good option for the annual wheel changeover or light-duty work corner by corner. The set is sold in pairs and each unit is rated for 2 tons (4,000 lbs) which is lower than any other option on the list. Tonda also keeps the cost down by forgoing powder coating.
These are compact stands with a small 7.7″ by 7.7" base, so they're easy to store. The base is narrower than most, but with a limited lift range of 10.7″ to 17", they still offer solid stability when in use. We advocate this set only for extreme light duty use on smaller sedans and compact hatches, and caution that the ratchet bar doesn't have a secondary locking pin.
At this price though, there's no excuse for not using a jack stand while working on your car, and that's a positive in any book.
Key Specs
Max lift height: 17"
Max weight (each): 2 tons (4,000 lbs)
Footprint (LxW): 7.7" x 7.7"
Pros:
Cons:
Limited weight capacity
Bare metal
---
8. Best Axle Stand: Esco 10472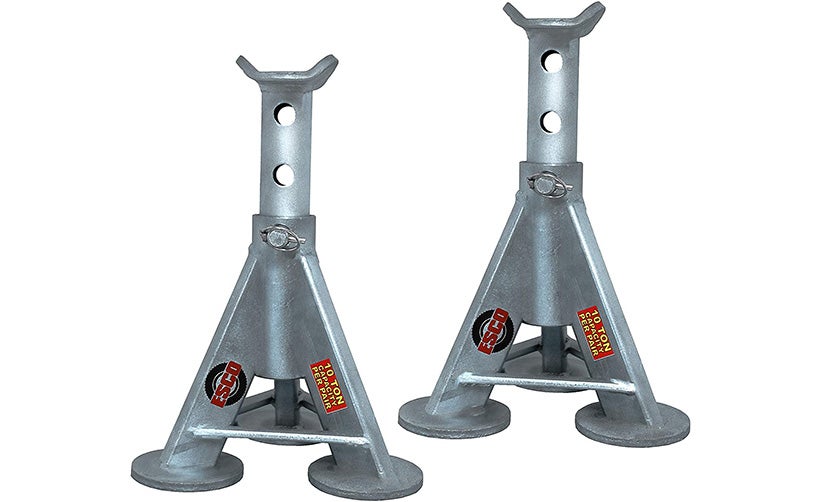 The 10472 jack stand from Esco is built to support axles on most conventional vehicles and trailers with a secure u-shaped saddle.
Use the Esco 10472 jack stand to support vehicles using the axles with its u-shaped saddle. The long saddle and u-design make it easy to safely hold your ride via the axle, and the 5-ton rating makes each of these stands (sold in pairs) tough enough to keep your rig in the air when you need them to.
With a lift range of 11″ to 17.5" this is great for most SUVs, cars, and trailers, but might be too low for pickup trucks. We should also note that the stands are painted for rust protection and are not powder coated or anodized as others are.
On the plus side, there are very wide foot pads at the base of the reinforced trio of legs, and the 12" by 12" by 12" stance makes for good stability without being cumbersome and taking up too much space.
We like this set because it's robust and well designed, with a saddle that works well on axles and other suspension components.
Key Specs
Max lift height: 17.5"
Max weight (each): 5 tons (10,000 lbs)
Footprint (LxW): Tripod-style, 12"
Pros:
Cons:
Expensive
Painted not anodized
---
Jack Stands Weight Ratings Explained
Most jack stands are rated at 2, 3, or 6 tons, and one US-standard ton is 2,000 lbs, making it easy to convert the ton rating to lbs by doubling the number and multiplying it by 1,000. That gives you 12,000 lbs for a 6-ton stand, for example.
That's not the whole story though, as some less reputable makers rate stands as a pair. That could leave you with half the capacity you thought you had on the box. In this guide we've made sure to show you per-unit ratings, so you won't get caught out.
Always match your stand to the weight of the vehicle you're jacking up.
Main photo credit: masuti / Shutterstock.com