No lights are flashing on the dashboard or smoke coming from the engine, but you keep hearing a strange noise while you drive. Popping the hood doesn't help much unless you're car savvy, and taking your car to the local mechanic is more than just a hassle. There's a reason people delay fixing their car, and it doesn't involve time or money: People just don't find mechanics trustworthy.
Without much knowledge of cars and their associated problems, car owners rely on mechanics to honestly and accurately pinpoint issues and fix them in the most convenient way possible. Too often, though, car owners suspect mechanics are finding problems that aren't really there and hiking up prices to get the most out of a quick fix.
But are these suspicions true? We surveyed over 150 auto mechanics about the shady practices in their industry. Which are they guilty of, and which don't actually happen that often? Keep reading to find out.
Honesty Is the Best Policy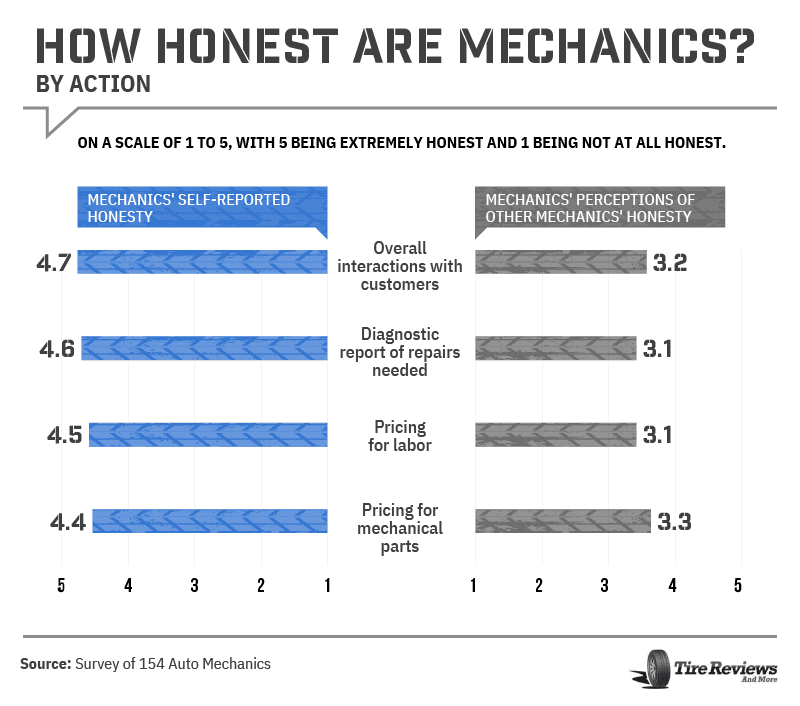 It's difficult to know if you're getting an honest answer from just about everyone, especially when you're asking about their trustworthiness. However, when asked to rate how honest they were with customers, mechanics were more likely to rate themselves as honest compared to other mechanics. Regarding interactions with customers, mechanics rated their honesty an average of 4.7 out of 5. On the other hand, they rated other mechanics as only somewhat honest (3.2) when dealing with customers. Surprisingly, mechanics rated themselves the least honest (4.4) when giving prices for mechanical parts, but rated other mechanics the highest in the same category (3.3).
Investigating whether your mechanic is overcharging for parts is an easy check, especially if you know someone who had the same work done. A quick search on the internet or a call to another mechanic can prevent you from becoming one of the 39.4 percent of people that mechanics said were overcharged for their auto repairs and services. With so many people getting ripped off, the majority of mechanics admitted to the issue in their industry and warned that the problem could get worse.
Industry Tricks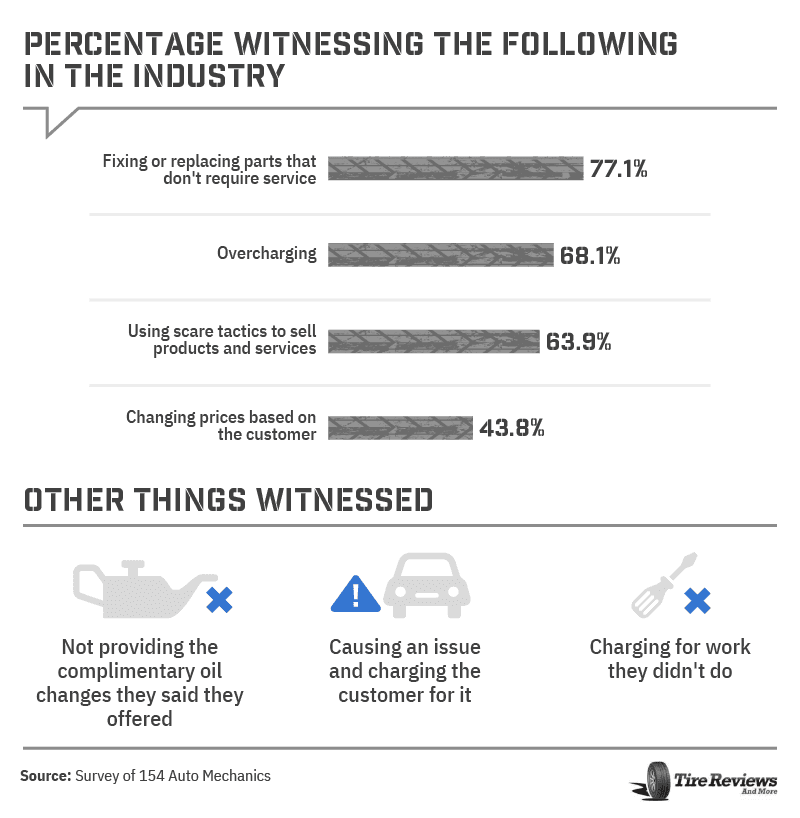 The most prevalent problem in the world of auto repairs was fixing or replacing parts that didn't require service, according to mechanics. Around 77 percent had witnessed false fixes in their industry, and another 68 percent witnessed overcharging. One mechanic even admitted that "free" oil changes sometimes didn't happen. If the oil change is needed, the skipped service can damage your car's engine and possibly void your car's warranty.

When car owners take their car in for service or repairs, they expect the company and mechanics to help rather than hurt their car or anything in it. But 41 percent of surveyed mechanics said they witnessed other mechanics stealing from customers' cars. Some mechanics even admitted to taking the cars out for a spin –- 23.6 percent said they had taken customers' cars for rides without their knowledge. Sports cars may be enticing to take to the streets, but the risky move could cost mechanics their job – especially if the car is equipped with a dash cam.
The Price Is Wrong
Sexism is alive and well in the automotive industry, and despite women being the industry's No. 1 customer, the majority feels they are taken advantage of. These feelings are certainly more than suspicions, though – women are overcharged by mechanics far more than their male counterparts. While the unequal treatment was present across all age groups, young and senior customers were the most likely to be overcharged according to those polled.
Roughly 73 percent of mechanics reported witnessing other mechanics overcharge young women and senior women, while around 65 percent saw other mechanics overcharge middle-aged women. While the differences in treatment by age also affected men, less than 58 percent of mechanics had witnessed a mechanic overcharge a young man, and nearly 61 percent saw a mechanic overcharge a senior man.
Taking advantage of customers doesn't just stop at gender, though. Around 18 percent of mechanics had seen a mechanic overcharge a customer based on their race or ethnicity. Even something as trivial as having bumper stickers on their vehicles resulted in customers being overcharged for services.
Being overcharged may be the norm, with specific demographics affected more than others, but sometimes, mechanics cut the price on services, likely thinking it'll benefit them in the long run. Around 70 percent of mechanics said they had seen a woman get a lower price because she was attractive.
Price of Luxury
On top of gender, race, and bumper stickers, the type of car you drive could also land you with a bill full of overcharges. Customers driving luxury cars were the most likely to be overcharged, according to around 36 percent of mechanics, followed by those with luxury SUVs. The risk of being overcharged is definitely more about make and model rather than size – only 7.6 percent of mechanics thought truck owners get overcharged, and 4.2 percent felt standard SUV owners do as well.
Doing your part to save the environment by driving an electric or hybrid vehicle not only saves you money on taxes but also can increase the chances of getting a fair deal on repair services. Just 3.5 percent of mechanics believed electric car owners get overcharged, and 0.7 percent thought the same of those driving hybrids.
Unnecessary Maintenance
Unnecessary service to your car may not seem like a bad thing, but when your wallet is drained to fix or service problems that aren't really there, avoiding the shop entirely seems like the better option. Although service depends on the type of car and how much use the car gets, fluid changes are recommended every 60,000 to 100,000 miles, making the service pretty rare.
However, fluid changes were the No. 1 service unnecessarily performed. Almost 56 percent of mechanics said they had seen transmission fluid changed unnecessarily, followed by around 54 percent who saw air filters changed without need. Unlike fluid, air filters are an easy check for most car owners. Simply removing the air filter and holding it up to the light can tell drivers whether a change is really necessary.
On the other hand, checking if your car needs an oil change is a bit more difficult. Since it's impossible to determine the oil condition based on color, most drivers follow factory maintenance schedules or listen to the advice of the professionals. While oil changes used to be recommended every 3,000 miles, today, the recommended intervals are every 5,000 to 7,500 miles. However, without this knowledge and mechanics claiming the service is necessary, oil changes are paid for unnecessarily. Around 23 percent of mechanics said they had witnessed others performing oil changes despite the current oil being perfectly fine.
Take It From Them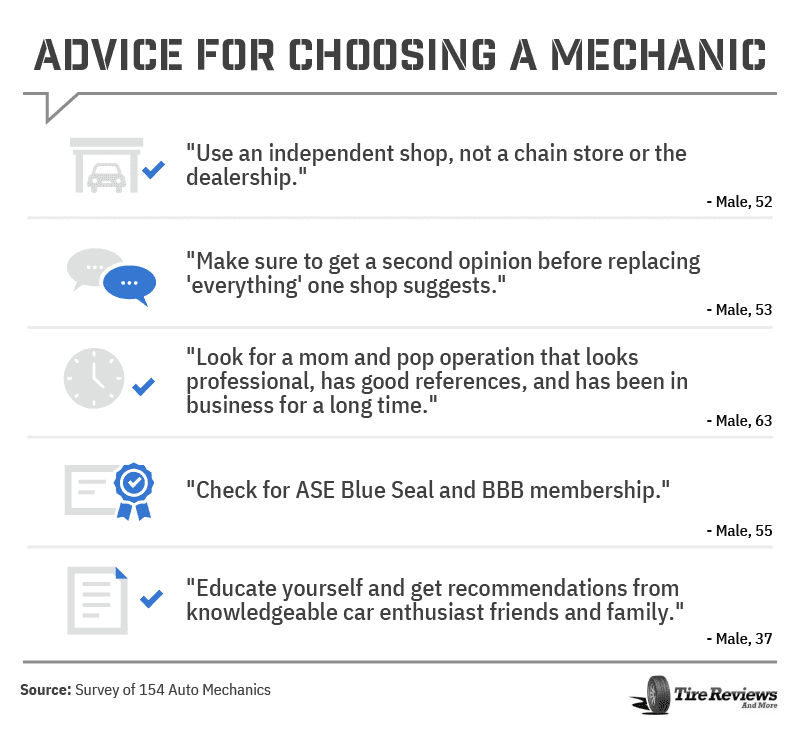 Know Before You Buy
Being knowledgeable about cars, services, and average prices for both is the only way to prevent being taken advantage of. Checking air filters, tire treads, and looking for leaks yourself can be helpful in knowing whether a service is really needed and can save owners a pretty penny in the long run. If a mechanic says your car is in need of repairs or services, check their quote against others found on the internet or at a different shop.
Methodology
We collected responses from 154 auto mechanics using Facebook Ads. 93.8% of our participants had been mechanics for over 10 years. Participants ranged in age from 25 to 76 with a mean of 58.5 and a standard deviation of 8.9. Anyone who was not an auto mechanic was disqualified from the survey.
Fair Use Statement
Know someone who would be interested in seeing the mechanics' side of things? Feel free to send them this study for noncommercial purposes to show what goes on behind garage doors. We only ask that you link back here so that they can see the entire study, and it gives our contributors credit for all their hard work.