Atturo Trail Blade M/T Tire Review & Rating
The Atturo Trail Blade M/T features one of the most aggressive and cutting-edge designs you'll find in an MT tire. The menacing sidewall design is modeled after Quartermaster Knives Karambit type blades and is well-suited for drivers looking for both performance and looks to add to any light truck, SUV and other 4×4's.
Trail Blade MT tires sport a cut and chip resistant tread compound, an 8 or 10-ply construction, depending on the size, and a 3-ply sidewall (on LT sizes) that provides added strength and durability in the roughest of off-road conditions. One note on the tread pattern is that it looks very similar to the Toyo MT, which is one of the better tires in this class.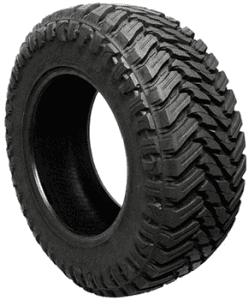 Atturo has built-in stone throwers between the shoulder treads that effectively kick-out rocks and other debris to increase traction, while the tire's alternating scalloped shoulder blocks add to lateral traction on dirt, sand and other loose surfaces.
On the highway, Atturo has added beveled center tread blocks that help with reducing road noise, which is not as noisy as many other MT tires. Deeper sipes and a contoured center channel on the shoulder blocks are designed to increase grip on wet pavement and reduce hydroplane risks.
A built-in rim protector further protects your wheels from potential damaging rocks and other debris. The Atturo Trail Blade MT is available in a wide range of 16-22 inches. A limited tread warranty is provided for all sizes.
Pros
Very good off-road performance
On-road dry/wet traction
Good ride quality
Tread wears well
Budget-priced
Cons
Not the best for serious rock crawling
Overall Thoughts
Make no mistake, there's a lot to like about the Trail Blade M/T and it all starts with its aggressive good looks. We give Atturo credit for its unique knife-blade looks that is not just good looking, but very effective in gripping into all types of terrain without issue.
Traction on dirt, mud, sand, gravel and other terrain is equal to what you find on many bigger name brand mud tires that cost much more than this model. On the road you'll find reliable traction and handling. Whether dry or wet, the Trail Blade gets around nicely. Road noise is not excessive, but you'll hear some hum as you would expect.
Overall, this tire may surprise you with its solid performance. We've heard the same from other drivers in reviews as well. As a second-tier MT tire we rank it among the better tires in this category.
Click Here To Find Current Prices
What Vehicles Will The Trail Blade M/T Fit?
(This is not a complete list of ALL vehicles this tire will fit)
Chevrolet Silverado, Colorado, K1500, Avalanche, S10, Blazer, Tahoe
Dodge Ram, Dakota, Durango
Ford F-150, Ranger, Bronco, Expedition
GMC Sierra, Canyon, Jimmy, Suburban
Hummer H3
Isuzu Trooper, Hombre5, Rodeo, Amigo S
Mitsubishi Montero
Nissan Crew Cab, Titan, Pathfinder
Jeep Wrangler, Cherokee, Grand Cherokee, Liberty, CJ5, CJ7
Land Rover Range Rover
Toyota FJ Cruiser, 4Runner, Tacoma, Tundra
Atturo Trail Blade MT Tire Sizes
16″
LT265/75R16 123/120Q BW
LT285/75R16 126/123Q BW
17″
LT265/70R17 121/118Q BW
33X12.5R17LT 114Q BW
35X12.5R17LT 121Q BW
18″
LT275/65R18 123/120Q BW
33X12.5R18LT 118Q BW
35X12.5R18LT 123Q BW
19″
255/55R19 111S XL BW
20″
LT285/50R20 119/116R BW
33X12.5R20LT 114Q BW
35X12.5R20LT 121Q BW
37×13.50R20LT 127Q BW
22″
33×12.50R22LT 109Q BW
35×12.50R22LT 117Q BW
37×13.50R22LT 123Q BW
Price Range
Atturo Trail Blade M/T prices range from approximately $167 and up. You may also find occasional rebates, discount prices, coupons and special offers on this tire.
Warranty
Atturo provides a limited tread warranty on the Trail Blade MT.
---