Atturo AZ850 Tire Review & Rating
Designed for high-performance summer driving, the Atturo AZ850 is engineered to deliver increased dry and wet traction while providing exceptional cornering grip and stability. Built for all types of sport trucks, SUV's and crossovers, the AZ850 also carries a much lower price than you'll find on similar bigger name brand models.
Atturo uses a unique rubber tread compound and asymmetric tread pattern that not only deliver solid traction on dry or wet road surfaces, but it also reduces heat build-up for added performance and better treadwear.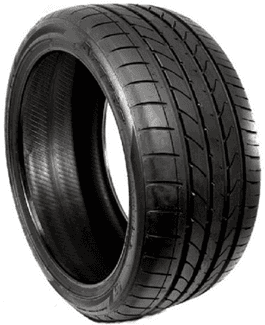 A continuous center rib quickens steering response and aids with braking and acceleration. Larger outer tread blocks enhance cornering grip, which is a plus for this tire and one frequently mentioned in other driver reviews.
The addition of a high-tensile steel belt, jointless nylon band technology and high bead filler all contribute to added performance and a stronger, more durable tire structure. Atturo offers a wide array of 18-22 inch sizes with V or Y-speed ratings. A limited tread warranty is included on all sizes.
We should note that the Atturo AZ850 is also available in a number of run-flat sizes. This will allow you to drive up to 50 miles on a flat at speeds up to 50 mph.
Pros
Dry and wet traction is excellent
Outstanding cornering grip and stability
Treadlife is better than expected
Value for the money
Cons
Would like to see a slight reduction in noise
Overall Thoughts
Atturo has put together a solid performing tire in the AZ850. Cornering grip is amazing on a budget-brand tire like this and offers comparable performance as many of the higher priced models. If you enjoy corner carving, you'll enjoy this tire.
There's been a lot of comparisons between other drivers of this tire and the Toyo ST II, and nearly every one of them have rated the AZ850 higher in terms of performance and price. We agree, the lower price and much higher levels of traction and cornering make this an excellent overall value in a UHP summer tire. Highly recommended.
What Vehicles Will The Atturo AZ850 Fit?
(This is not a complete list of ALL vehicles this tire will fit)
Acura MDX
BMW X5
Buick Enclave
Chevrolet Tahoe, Silverado, Avalanche, K-Blazer, Trailblazer, Suburban
Dodge Durango, Dakota, Ram, Nitro
Ford F-Series, Expedition, Ranger, Explorer
GMC Sierra, Envoy, Yukon
Infiniti QX4 SUV
Jeep Wrangler, Grand Cherokee, Commander, Liberty
Lincoln Navigator
Nissan Titan, Frontier
Toyota 4-Runner, Sequoia, Tundra, Tacoma, Highlander
Volkswagen Touareg
Tire Sizes
18″
235/60ZR18 107Y XL BSW
245/50ZR18 104Y XL BSW
255/55ZR18 109Y XL BSW
245/50RF18 104V RFT BSW
255/55RF18 109V RFT BSW
19″
235/55ZR19 105Y XL BSW
245/55R19 103V XL BSW
255/40R19 100Y XL BSW
255/50ZR19 107Y XL BSW
265/50ZR19 110Y XL BSW
285/45ZR19 111Y XL BSW
255/50ZRF19 107Y RFT BSW
255/50RF19 107V RFT BSW
285/45RF19 111Y RFT BSW
285/45RF19 111V RFT BSW
20″
235/40R20 96Y XL BSW
235/45R20 100Y XL BSW
255/50ZR20 109Y XL BSW
275/40ZR20 106Y XL BSW
275/45ZR20 110Y XL BSW
315/35ZR20 110Y XL BSW
275/40ZRF20 106Y RFT BSW
275/40RF20 106V RFT BSW
315/35ZRF20 110Y RFT BSW
315/35RF20 110V RFT BSW
21″
265/40ZR21 105Y XL BSW
275/45R21 110Y XL BSW
295/35ZR21 107Y XL BSW
295/40ZR21 111Y XL BSW
22″
275/35R22 104Y XL BSW
275/40ZR22 108Y XL BSW
285/35R22 106Y XL BSW
295/30ZR22 103Y XL BSW
315/30R22 107Y XL BSW
335/25R22 105Y XL BSW
Price Range
Atturo AZ850 prices range from approximately $113 and up. You may also find occasional rebates, discount prices, coupons and special offers on this tire.
Warranty
Atturo provides a limited tread warranty on the AZ850 tire.
---