Arizonian Silver Edition Tire Review & Rating
The Arizonian Silver Edition all-season tire uses the latest in tire technology to it dependable performance, at a family budget friendly cost.
The asymmetric non-directional tread pattern features an optimized contact patch which improves overall traction and gives the tire better longevity. It's one reason why they provide a 65,000 mile tread warranty on the tire.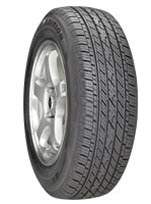 Handling and cornering is adequate on the Silver Edition due to the serpentine block design. It gives the tire more even pressure when turning for increased stability and steering response.
Wet surface traction is aided by the four larger circumferential grooves and zig-zag sipes that lower the risk of hydroplaning and give the tire better grip on wet or snow covered roads.
Another thing you will notice on this tire is how quiet it rides. A computer optimized tread pitch sequence is utilized to reduce road noise and give you a much smoother overall ride quality. A unique swoosh groove in the center rib further reduces road noise.
Inside the tread are twin steel belts and a nylon cap ply to increase strength and stability at higher speeds. You will find this tire available in T, H and V speed ratings.
Pros
Dry and wet handling is more than adequate

Quiet and smooth riding tire

Good value for the money
Cons
Tread life could be better
Overall Thoughts
(Note: The Arizonian Silver Edition is being replaced by the new Arizonian Silver Edition III.)
The Silver Edition tire is an ideal option for the budget minded driver who is looking to get the most value for their money in an all-season tire. You can expect to find very good year-round traction and handling with more than adequate performance to satisfy the needs of most drivers.
The ride is comfortable on this model, and there is little in the way of road noise to have to deal with. Treadlife is an area that could be a bit better, but even that is not all that bad, especially when you factor in the lower price point. Overall, we rank the Silver Edition in the middle of the all-season class.
Click Here To Find Current Prices
What Vehicles Will The Silver Edition Fit?
(This is not a complete list of ALL vehicles this tire will fit)
Chevrolet Cruze, Malibu

Chrysler 300, LHS

Dodge Avenger, Caliber

Ford Fusion

Honda Accord, Civic

Hyundai Sonata

Infiniti G35

Nissan Altima, Maxima

Pontiac G6

Subaru Outback

Toyota Camry, Corolla, Avalon

Volkswagen Jetta
Tire Sizes
14″
185/65R14 86T BLK
15″
185/65R15 88T BLK
195/60R15 88H BLK
195/65R15 91T BLK
205/65R15 94T BLK
205/70R15 96T BLK
215/70R15 98T BLK
16″
205/55R16 91H BLK
205/60R16 92V BLK
215/60R16 95T BLK
215/65R16 98T BLK
225/60R16 98T BLK
235/65R16 103T BLK
17″
215/50R17XL 95V B
215/55R17 94V BLK
215/60R17 96T BLK
215/65R17 99T BLK
225/55R17 97H BLK
225/60R17 99T BLK
Price Range
Prices on the Arizonian Silver Edition range from $59 and up. You may also find occasional rebates, discounts, coupons and special offers on this tire.
Click Here To Find Current Price On All Arizonian Silver Edition Sizes
---
Warranty
Arizonian has a 65,000 mile treadlife warranty on the Silver Edition. Tire uniformity is backed for the first 2/32 inch of tread wear. Materials and workmanship are covered for 5 years.
---