Arizonian Silver Edition III Tire Review & Rating
The new for 2015 Arizonian Silver Edition III touring all-season tire is built to offer dependable traction and handling to go with a quiet and comfortable ride. Designed for all types of family sedans, minivans and crossovers, this new model also sports a more budget-friendly price for drivers looking to save money on a new set of tires.
An all-season tread compound features an optimized tread profile that is created to be more durable and extend the tread life. A symmetric tread pattern allows the Silver Edition III to deliver excellent dry traction and more responsive handling and steering control.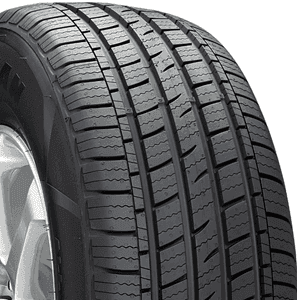 Four circumferential grooves and numerous lateral grooves around the tread provide increased wet traction and aid in channeling away rain water while reducing the risk of hydroplaning. This Arizonian tire includes hundreds of zig-zag sipes in the tread that further enhance grip on wet pavement, as well as providing extra bite on snow and ice.
Ride comfort is addressed through an advanced tread pitch sequence that reduces pattern noise on all types of pavement surfaces. Staggered shoulder blocks and the tire's continuous center rib not only help in braking and acceleration, but add to steering response and deliver a more on center feel when driving on the highway.
Arizonian, which is a member of the Cooper Tire family, is offered exclusively through Discount Tire. The Silver Edition III is currently available in a range of 14-17 inch sizes, with speed ratings of T and H. A 55K mile tread warranty is also part of the package.
Pros
Very good dry/wet traction and handling
Smooth quiet ride
Treadlife
Value priced
Cons
Deep snow and ice performance
Would like to see more sizes available
Overall Thoughts
The original Silver Edition has proven over the years to be a winner. Drivers everywhere have given it high marks, and this newest Silver Edition III is looking to be no different. In fact, we would say it is an improvement over the original in areas of handling, comfort and treadwear.
You can expect to find more than adequate grip on dry or wet road surfaces. The zig-zag sipes do their job well in keeping the tread connected to the pavement on wet streets. Handling is very nice on this model. It tracks well through the corners and on/off-ramps on the highway, while maintaining a smooth ride that is often only found on tires costing much more. In addition, treadlife has shown to be excellent at this stage.
Deep snow and heavier ice is really the only area of concern. To be fair, that is the issue with most every all-season tire built. That said, it holds its own pretty well in light to moderate amounts of snow and slush. Of course, if you live in areas that see a lot of heavy snow and ice on a regular basis, a dedicated winter tire is what you need anyway.
Overall, this latest Arizonian tire is an excellent addition to the touring all-season class. It delivers the type of performance that everyday drivers look for in a new tire, while having a budget-friendly price that many car owners are seeking.
Click Here To Find Current Price
What Vehicles Will The Arizonian Silver Edition III Fit?
(This is not a complete list of ALL vehicles this tire will fit)
Chevrolet Cobalt, Sonic, Malibu
Chrysler 200, Town and Country
Ford Fiesta, Focus
Honda Accord, Civic, Fit, Odyssey
Hyundai Accent, Elantra, Santa Fe, Sonata
Kia Forte, Optima
Nissan Altima, Maxima, Versa
Toyota Camry, Corolla, Prius, Sienna
Tire Sizes
14″
175 /65 R14 82T SL BSW
185 /65 R14 86T SL BSW
185 /70 R14 88T SL BSW
195 /70 R14 91T SL BSW
15″
185 /60 R15 84T SL BSW
185 /65 R15 88T SL BSW
195 /65 R15 91T SL BSW
205 /65 R15 94T SL BSW
205 /70 R15 96T SL BSW
215 /70 R15 98T SL BSW
16″
205 /55 R16 91H SL BSW
205 /60 R16 92H SL BSW
205 /65 R16 95H SL BSW
215 /55 R16 97H XL BSW
215 /60 R16 95T SL BSW
215 /65 R16 98T SL BSW
225 /60 R16 98T SL BSW
225 /65 R16 100T SL BSW
235 /65 R16 103T SL BSW
17″
215 /55 R17 94H SL BSW
215 /60 R17 96T SL BSW
215 /65 R17 99T SL BSW
225 /55 R17 97H SL BSW
225 /60 R17 99T SL BSW
225 /65 R17 102T SL BSW
235 /65 R17 104T SL BSW
Price Range
Arizonian Silver Edition III prices range from approximately $59 and up. You may also find occasional rebates, discount prices, coupons and special offers on this tire.
Click Here To Find Current Prices On All Arizonian Silver Edition III Tire Sizes
Warranty
Arizonian has a 55,000 mile treadlife warranty on the Silver Edition III. Tire uniformity is backed for the first 2/32 inch of tread wear. Materials and workmanship are covered for 5 years.
---