AMS Swamp Fox Tire Review
Built for rugged trail and country conditions, the AMS Swamp Fox takes you through the worst of terrain without letting you down.
The tire features a computer-enhanced tread pattern that is optimized for traction and stability, while the 6-ply tread protects against punctures. You'll find the tire's shoulder knobs provide the added bite you need in getting out of deep ruts.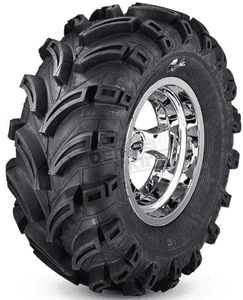 Of course, one look at the aggressive tread design and you can see this is a tire that will power its way through hard-packed dirt, mud, gravel, wet grass, as well as snow and ice. Whether it's for weekend fun or for work around the homestead, the Swamp Fox doesn't disappoint with its performance.
Tire Sizes
16x8x7
22x7x10
22x7x11
22x8x10
22x10x9
22x10x10
22x11x9
22x11x10
23x7x10
23x8x11
23x8x12
23x10x10
23x10x12
24x8x11
24x8x12
24x9x11
24x10x11
24x11x10
25x8x11
25x8x12
25x10x11
25x10x12
25x11x10
25x11x12
25x12x9
25x12x10
What ATV's Will The Swamp Fox Fit?
Fits these ATV's and many others:
Arctic Cat 300, 400, 500, 700 TRV
Bombardier Outlander 330, 400
Can-Am Outlander 400, 500, Renegade 800
Honda TRX 450, 500, 650
Kawasaki KVF360A, 650A, 700B, 750B
Kymco MXU 500 4×4
Polaris Professional Series 2500, Ranger 500
Suzuki LT-A400F, LT-A450XC King Quad, LT-A500F Vinson
Yamaha YFM350G Grizzly, Kodiak
Price Range
Prices on the Swamp Fox range from approximately $38 and up.
---