American Racing AR105 Torq Thrust M Wheels
American Racing AR105 Torq Thrust M wheels sport a timeless design that has made the American hot rod scene so iconic. The 5-spoke design is crafted from high-quality aluminum and built with strength and performance in mind.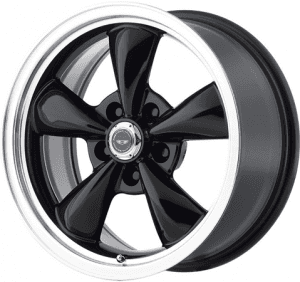 American Racing offers a choice of finishes that include gloss black with machined lip or an anthracite with machined lip. The AR105 Torq Thrust M is available in 17-20 inch diameters with a range of bolt patterns and offsets, and all wheels come with a branded center cap. American Racing backs their rims with a lifetime structural warranty.
American Racing Wheels AR105 Torq Thrust M Specs
17″
17 X10.5 5-120.65 44 BKGLML
17 X7 5-114.30 0 GYGLML
17 X7 5-114.30 0 BKGLML
17 X7 5-120.65 0 GYGLML
17 X7 5-120.65 0 BKGLML
17 X8 5-114.30 30 BKGLML
17 X8 5-114.30 0 GYGLML
17 X8 5-114.30 0 BKGLML
17 X8 5-114.30 30 GYGLML
17 X8 5-120.65 0 GYGLML
17 X8 5-120.65 0 BKGLML
17 X9 5-114.30 24 GYGLML
17 X9 5-114.30 24 BKGLML
17 X9 5-120.65 45 BKGLML
17 X9 5-120.65 45 GYGLML
18″
18 X8 5-114.30 0 BKGLML
18 X9 5-114.30 24 BKGLML
18 X9 5-114.30 34 BKGLML
20″
20 X10 5-115.00 18 BKGLML
20 X8.5 5-114.30 32 BKGLML
20 X8.5 5-115.00 18 GYGLML
20 X8.5 5-115.00 18 BKGLML
---