American Outlaw Regulator Wheels
The American Outlaw Regulator wheel has a uniquely irresistible design to it that looks both tough and elegant at the same time. Whether this rim is mounted on your car, truck or SUV, the Regulator is an attention grabber for sure.
Featuring one-piece aluminum construction, this wheel comes in either a matte black finish with machined accents, or in an all silver finish. The distinctive center cap is also included on every wheel. Sizes are available ranging from 15-20 inch diameters.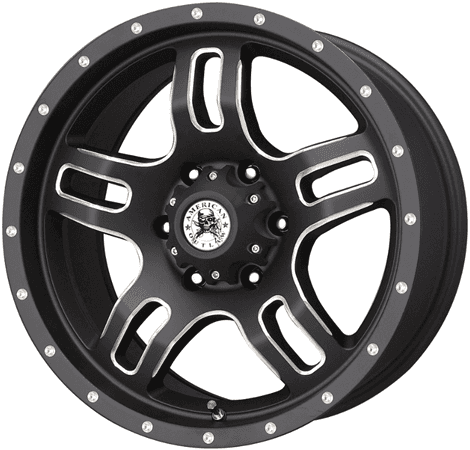 American Outlaw Wheels Regulator Specs
15″
15 X8.5 5-139.70 -19 SLMCBM
15 X8.5 6-139.70 -19 SLMCBM
16″
16 X8 5-114.30 0 SLMCBM
16 X8 5-114.30 0 BKMCBM
16 X8 5-127.00 0 BKMCBM
16 X8 5-127.00 0 SLMCBM
16 X8 5-135.00 0 SLMCBM
16 X8 5-135.00 0 BKMCBM
16 X8 6-139.70 0 BKMCBM
16 X8 6-139.70 0 SLMCBM
16 X8 8-165.10 0 BKMCBM
17″
17 X9 5-127.00 -10 BKMCBM
17 X9 5-127.00 -10 SLMCBM
17 X9 5-127.00 10 SLMCBM
17 X9 5-127.00 10 BKMCBM
17 X9 5-139.70 10 BKMCBM
17 X9 5-139.70 10 SLMCBM
17 X9 6-135.00 10 SLMCBM
17 X9 6-135.00 10 BKMCBM
17 X9 6-139.70 10 BKMCBM
17 X9 6-139.70 10 SLMCBM
17 X9 6-139.70 -10 SLMCBM
17 X9 6-139.70 -10 BKMCBM
17 X9 8-165.10 10 BKMCBM
17 X9 8-170.00 10 BKMCBM
18″
18 X9 5-127.00 10 BKMCBM
18 X9 5-127.00 10 SLMCBM
18 X9 5-150.00 10 SLMCBM
18 X9 5-150.00 10 BKMCBM
18 X9 6-135.00 10 BKMCBM
18 X9 6-135.00 10 SLMCBM
18 X9 6-139.70 10 SLMCBM
18 X9 6-139.70 10 BKMCBM
18 X9 8-165.10 10 BKMCBM
20″
20 X9 5-139.70 10 BKMCBM
20 X9 5-139.70 10 SLMCBM
20 X9 5-150.00 10 SLMCBM
20 X9 5-150.00 10 BKMCBM
20 X9 6-135.00 10 BKMCBM
20 X9 6-135.00 10 SLMCBM
20 X9 6-139.70 10 SLMCBM
20 X9 6-139.70 10 BKMCBM
20 X9 8-170.00 10 BKMCBM
---