American Outlaw Plank Wheels
If you're looking for stylish, reliable, premium alloy wheels for your SUV, light truck or other similar vehicle, it's difficult to look past American Outlaw Plank wheels. These rugged, lightweight one-piece aluminum wheels will give your vehicle a bold, stylish look that's not always the case with other similar sized wheels.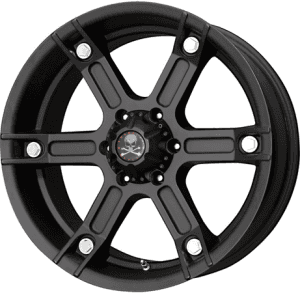 Sporting a slick matte black finish, a set of American Outlaw Plank wheels are suitable for a wide range of vehicles and are available in 17 and 20 inch sizes. These wheels are fully TPMS compatible and a full manufacturer's warranty is provided for any materials or workmanship defects that may occur.
American Outlaw Wheels Plank Specs
17″
17 X8.5 5-127.00 10 BKMTXX
17 X8.5 5-135.00 10 BKMTXX
17 X8.5 5-139.70 10 BKMTXX
17 X8.5 6-135.00 10 BKMTXX
17 X8.5 6-139.70 10 BKMTXX
20″
20 X9 5-139.70 10 BKMTXX
20 X9 5-150.00 10 BKMTXX
20 X9 6-135.00 10 BKMTXX
20 X9 6-139.70 10 BKMTXX
---