American Outlaw Lawman Wheels
American Outlaw Lawman wheels are rugged and designed to be extremely reliable. As well as being strong and giving you peace of mind, these high-quality wheels also look amazing and add a touch of class to a wide range of SUV's and light trucks.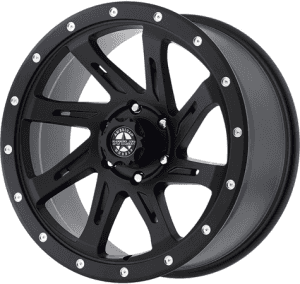 Each of these one-piece aluminum wheels is available in a sleek black matte finish. They have a distinctive 8-spoke pattern and include a center cap with the iconic American Outlaw logo on it. 17 and 20 inch sizes are available, which means American Outlaw Lawman rims are ideal for a number of different types of vehicles. All sizes of American Outlaw wheels come with a warranty that covers wheel structure, as well as the finish.
American Outlaw Wheels Lawman Specs
17″
17 X9 5-114.30 -10 BKMTXX
17 X9 5-127.00 -10 BKMTXX
17 X9 5-139.70 -10 BKMTXX
17 X9 6-135.00 -10 BKMTXX
17 X9 6-139.70 -10 BKMTXX
20″
20 X9 5-139.70 10 BKMTXX
20 X9 5-150.00 10 BKMTXX
20 X9 6-135.00 10 BKMTXX
20 X9 6-139.70 10 BKMTXX
---