American Outlaw Grit Wheels
If you want to make a bold statement, fitting a set of American Outlaw Grit wheels on your SUV or light truck is one of the most effective ways to achieve this goal. American Outlaw Grit wheels are crafted from lightweight high-quality aluminum and built to exacting standards that have proven to be reliable and retain their awesome good looks.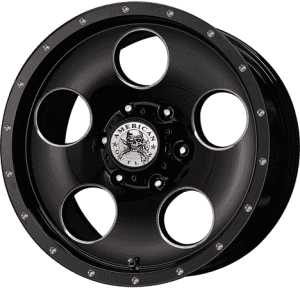 Available in a stylish gloss black finish with ball machine, each American Outlaw Grit rim has a distinctive center cap which features the iconic American Outlaw logo. These wheels are perfect for a wide range of vehicles and are available in 17, 18 and 20-inch diameter sizes with a variety of different bolt patterns. All American Outlaw Grit wheels are fully TPMS compatible for today's newest vehicles and a full manufacturer warranty is provided.
American Outlaw Wheels Grit Specs
17″
17 X9 5-127.00 10 BKGLBM
17 X9 5-127.00 -10 BKGLBM
17 X9 5-139.70 10 BKGLBM
17 X9 6-135.00 10 BKGLBM
17 X9 6-139.70 10 BKGLBM
17 X9 6-139.70 -10 BKGLBM
18″
18 X9 5-127.00 10 BKGLBM
18 X9 5-150.00 10 BKGLBM
18 X9 6-135.00 10 BKGLBM
18 X9 6-139.70 10 BKGLBM
20″
20 X9 5-139.70 10 BKGLBM
20 X9 5-150.00 10 BKGLBM
20 X9 6-135.00 10 BKGLBM
20 X9 6-139.70 10 BKGLBM
---