American Outlaw Bandit Wheels
American Outlaw Bandit wheels take style to a whole new level and are one of our favorites when it comes to truck and SUV wheels. These one-piece aluminum alloy wheels are designed as real head-turners to be sure. But the Bandit is not all about appearance as these rims are built strong, durable and light in weight, which all contribute to much better handling and performance.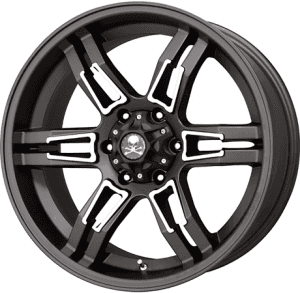 With a matte black with machined spokes finish, American Outlaw Bandit wheels are truly unique. They are available in 17 and 20 inch diameters and each of these rims are TPMS compatible.
American Outlaw provides a lifetime structural warranty on each wheel, as well as a one-year guarantee on the finish.
American Outlaw Wheels Bandit Specs
17″
17 X9 5-127.00 -10 BKMTMS
17 X9 5-127.00 10 BKMTMS
17 X9 5-135.00 10 BKMTMS
17 X9 5-139.70 10 BKMTMS
17 X9 6-135.00 10 BKMTMS
17 X9 6-139.70 -10 BKMTMS
17 X9 6-139.70 10 BKMTMS
17 X9 8-165.10 10 BKMTMS
20″
20 X9 5-127.00 10 BKMTMS
20 X9 5-150.00 10 BKMTMS
20 X9 6-135.00 -10 BKMTMS
20 X9 6-135.00 10 BKMTMS
20 X9 6-139.70 -10 BKMTMS
20 X9 6-139.70 10 BKMTMS
20 X9 8-165.10 10 BKMTMS
20 X9 8-170.00 10 BKMTMS
---