Advanti 78B Bello Wheels
One glimpse at the Advanti 78B Bello and you can quickly see how this wheel can immediately transform the looks on any vehicle. It's visually stunning with its black matte finish and multi-spoke design. In addition to its looks, this is also a wheel that is built to enhance your vehicles handling performance.
Advanti wheels uses the best materials and the latest in wheel technology to deliver only the highest quality in custom wheels for any vehicle. Every rim is TPMS compatible and comes with a one-year materials and workmanship warranty.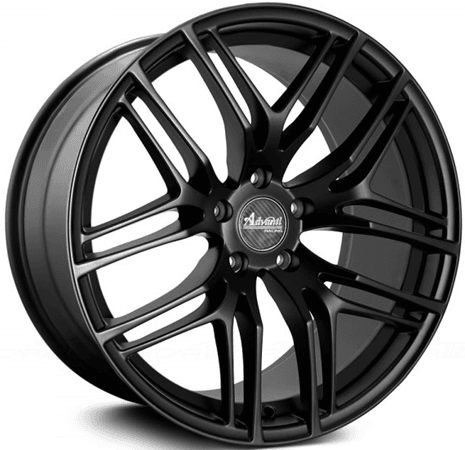 Advanti Wheels 78B Bello Specs
| | | | | | | |
| --- | --- | --- | --- | --- | --- | --- |
|  Size | Bolt Pattern | Offset | Weight | Hub Bore | Load Rating | Product # |
| 18X8 | 5X100 | +35 | 24 | 73 | 1518 | 78B-BO88510355 |
| 18X8 | 5X4.50 | +45 | 24 | 73 | 1518 | 78B-BO88514455 |
| 18X8 | 5X112 | +45 | 24 | 73 | 1518 | 78B-BO88512455 |
| 18X8 | 5X112 | +35 | 24 | 73 | 1518 | 78B-BO88512355 |
| 18X8 | 5X4.50 | +35 | 24 | 73 | 1518 | 78B-BO88514355 |
| 19X8.5 | 5X120 | +30 | 29 | 74.1 | 1518 | 78B-B09A520455 |
| 19X8.5 | 5X120 | +45 | 29 | 74.1 | 1518 | 78B-BO9A520455 |
| 19X8.5 | 5X112 | +45 | 29 | 73 | 1518 | 78B-BO9A512455 |
| 19X8.5 | 5X4.50 | +45 | 29 | 73 | 1518 | 78B-BO9A514455 |
| 19X8.5 | 5X112 | +35 | 29 | 73 | 1518 | 78B-BO9A512355 |
| 19X8.5 | 5X4.5 | +30 | 29 | 73 | 1518 | 78B-BO9A514305 |
| 19X9.5 | 5X4.50 | +35 | 32 | 73 | 1518 | 78B-BO9N514355 |
| 19X9.5 | 5X120 | +45 | 32 | 74.1 | 1518 | 78B-BO9N520455 |
| 19X9.5 | 5X112 | +45 | 32 | 73 | 1518 | 78B-BO9N512455 |
| 19X9.5 | 5X4.50 | +45 | 32 | 73 | 1518 | 78B-BO9N514455 |
| 19X9.5 | 5X120 | +35 | 32 | 74.1 | 1518 | 78B-BO9N520355 |
| 19X9.5 | 5X112 | +35 | 32 | 73 | 1518 | 78B-BO9N512355 |
| 20X9 | 5X120 | +40 | 31 | 74.1 | 1518 | 78B-BO0A520405 |
| 20X9 | 5X4.50 | +40 | 31 | 73 | 1518 | 78B-BO0A514405 |
| 20X9 | 5X112 | +30 | 31 | 73 | 1518 | 78B-BO0A512305 |
| 20X9 | 5X112 | +40 | 31 | 73 | 1518 | 78B-BO0A512405 |
| 20X9 | 5X120 | +30 | 31 | 74.1 | 1518 | 78B-BO0A520305 |
| 20X9 | 5X4.50 | +30 | 31 | 73 | 1518 | 78B-BO0A514305 |
| 20X10 | 5X4.50 | +45 | 33 | 73 | 1518 | 78B-BO0N514455 |
| 20X10 | 5X112 | +35 | 33 | 73 | 1518 | 78B-BO0N512355 |
| 20X10 | 5X120 | +35 | 33 | 74.1 | 1518 | 78B-BO0N520355 |
| 20X10 | 5X4.50 | +35 | 33 | 73 | 1518 | 78B-BO0N514355 |
| 20X10 | 5X120 | +45 | 33 | 74.1 | 1518 | 78B-BO0N520455 |
| 20X10 | 5X112 | +45 | 33 | 73 | 1518 | 78B-BO0N512455 |
---