Advanti 77B Fastoso Wheels
Featuring unique Y-shaped spokes, the Advanti 77B Fastoso delivers both an elegant and aggressive look for any type of vehicle. The 77B comes with a matte black finish that is machine undercut and is built to be TPMS compatible.
Whether you are into racing or cruising, Advanti Wheels are well-known for their high-performance lineup, and the Fastoso 77B doesn't disappoint. It exceeds all industry standards and provides a distinguished look that car and truck owners have highly recommended. The wheels are available in 18, 19 and 20 inch diameters, and the embossed center cap is also included.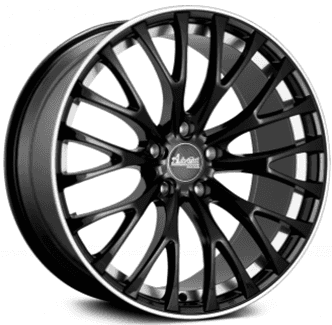 Advanti Wheels 77B Fastoso Specs
| | | | | | | |
| --- | --- | --- | --- | --- | --- | --- |
| Size | Bolt Pattern | Offset | Weight | Hub Bore | Load Rating | Product # |
| 18X8 | 5X112 | +45 | 24 | 73 | 1518 | 77S-FS8851245S |
| 18X8 | 5X112 | +35 | 24 | 73 | 1518 | 77S-FS8851235S |
| 19X8.5 | 5X120 | +30 | 29 | 74.1 | 1518 | 77S-FS9A52030S |
| 19X9.5 | 5X4.5 | +35 | 32 | 73 | 1518 | 77S-FS9N51435S |
| 19X9.5 | 5X120 | +45 | 32 | 74.1 | 1518 | 77S-FS9N52045S |
| 18X8 | 5X4.5 | +45 | 24 | 73 | 1518 | 77S-FS8851445S |
| 18X8 | 5X100 | +35 | 24 | 73 | 1518 | 77S-FS8851035S |
| 18X8 | 5X4.5 | +35 | 24 | 73 | 1518 | 77S-FS8851435S |
| 19X8.5 | 5X120 | +45 | 29 | 74.1 | 1518 | 77S-FS9A52045S |
| 19X8.5 | 5X112 | +35 | 29 | 73 | 1518 | 77S-FS9A514305 |
| 19X8.5 | 5X112 | +35 | 29 | 73 | 1518 | 77S-FS9A51235S |
| 19X8.5 | 5X4.50 | +30 | 29 | 73 | 1518 | 77S-FS9A51430S |
| 19X8.5 | 5X112 | +45 | 29 | 73 | 1518 | 77S-FS9A51245S |
| 19X8.5 | 5X4.50 | +45 | 29 | 73 | 1518 | 77S-FS9A51445S |
| 19X9.5 | 5X120 | +35 | 32 | 74.1 | 1518 | 77S-FS9N52035S |
| 19X9.5 | 5X112 | +45 | 32 | 73 | 1518 | 77S-FS9N51245S |
| 19X9.5 | 5X4.50 | +45 | 32 | 73 | 1518 | 77S-FS9N51445S |
| 19X9.5 | 5X112 | +35 | 32 | 73 | 1518 | 77S-FS9N51235S |
| 20X9 | 5X4.50 | +40 | 31 | 73 | 1518 | 77S-FS0A51440S |
| 20X9 | 5X120 | +40 | 31 | 74.1 | 1518 | 77S-FS0A52040S |
| 20X9 | 5X112 | +30 | 31 | 73 | 1518 | 77S-FS0A51230S |
| 20X9 | 5X112 | +40 | 31 | 73 | 1518 | 77S-FS0A51240S |
| 20X9 | 5X120 | +30 | 31 | 74.1 | 1518 | 77S-FS0A52030S |
| 20X9 | 5X4.50 | +30 | 31 | 73 | 1518 | 77S-FS0A51430S |
| 20X10 | 5X4.50 | +35 | 33 | 73 | 1518 | 77S-FS0N51435S |
| 20X10 | 5X112 | +35 | 33 | 73 | 1518 | 77S-FS0N51235S |
| 20X10 | 5X120 | +35 | 33 | 74.1 | 1518 | 77S-FS0N52035S |
| 20X10 | 5X112 | +45 | 33 | 73 | 1518 | 77S-FS0N51245S |
| 20X10 | 5X120 | +45 | 33 | 74.1 | 1518 | 77S-FS0N52045S |
| 20X10 | 5X4.50 | +45 | 33 | 73 | 1518 | 77S-FS0N51445S |
---