Advanti 63MS Kudos Wheels
Advanti 63MS Kudos wheels are designed to give your vehicle a more unique and distinctive appearance. With its attractive multi-spoke construction and silver paint finish, this is also a custom racing wheel that is built to increase your cars handling potential.
As with all Advanti wheels, the 63MS is constructed from high-quality materials and exceeds all industry standards. All sizes are TPMS compatible and come with a one-year warranty for protection against defects in materials and workmanship.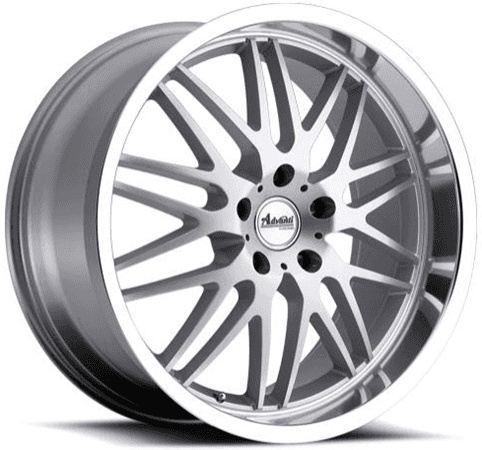 Advanti Wheels 63MS Kudos Specs
| | | | | | | |
| --- | --- | --- | --- | --- | --- | --- |
| Size | Bolt Pattern | Offset | Weight | Hub Bore | Load Rating | Product # |
| 18X8 | 5X120 | +32 | 28 | 72.56 | 1700 | 63MS-A48852032S |
| 18X8 | 5X4.5 | +40 | 28 | 73 | 1700 | 63MS-A48852040S |
| 18X8 | 5X120 | +40 | 28 | 72.56 | 1700 | 63MS-A48852040S |
| 18X9.5 | 5X4.50 | +35 | 30 | 73 | 1700 | 63MS-A48951435S |
| 18X9.5 | 5X120 | +40 | 30 | 72.56 | 1700 | 63MS-A48952040S |
| 18X9.5 | 5X120 | +32 | 30 | 72.56 | 1700 | 63MS-A48952032S |
| 20X8.5 | 5X120 | +40 | 30 | 74.1 | 1800 | 63MS-A48052040S |
| 20X8.5 | 5X120 | +20 | 30 | 74.1 | 1800 | 63MS-A48052020S |
| 20X10 | 5X120 | +25 | 38.5 | 74.1 | 1800 | 63MS-A40152025S |
| 20X10 | 5X120 | +40 | 38.5 | 74.1 | 1800 | 63MS-A40152040S |
| 22X10 | 5X120 | +40 | 41 | 74.1 | 2000 | 63MS-A42152040S |
---