Achilles ATR Sport Tire Review & Rating
Budget high-performance tires often get a bad reputation for obvious reasons, but in some cases it can often be unjustified. The Achilles ATR Sport (Advanced Technology Radial) is a tire that comes in at a low budget price but is built to provide a higher level of performance. Designed for all types of sport coupes, sedans and other vehicles, the ATR Sport has a number of impressive features.
An eco-friendly silica tread compound is matched up with an advanced offset design and directional tread pattern that helps to transfer energy to the road for better fuel efficiency and increased traction and grip on either dry or wet road surfaces.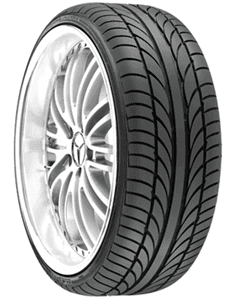 Steering response is quicker due in part to the continuous center rib that further enhances cornering stability as well. Unique 3-D surface block technology helps to reduce outside road noise and deliver a more comfortable ride quality.
Inside the tire you'll find twin steel belts and a polyester cord body for increased strength and durability. Achilles has a wide variety of 15 to 20 inch sizes, and they also include a 25,000 mile tread warranty.
Pros
Good performance on most road conditions

Quick steering and very good cornering grip 

 

 

 

Comfortable ride for the most part

 

 

 

 

Good value for the price

 

 

 

 
Cons
Don't even think about driving in winter conditions

Treadlife 

 

 

 
Overall Thoughts
These tires from Achilles are good because they don't pretend to be something they are not. The tires are decent performers in warmer months. Steering is quick and responsive, and you'll find it handles well in the corners.
On the other hand don't even consider driving on this tire in cold weather or on snow and ice. Park the car and wait for the weather to warm back up, or better yet get a set of dedicated winter tires instead. In addition, treadlife may be an issue for more spirited drivers, but really to be expected on a high performance low cost tire.
That being said, for the price that the Achilles ATR Sport costs, they are not a bad choice for every day driving in good to reasonable conditions for those looking to get a little more performance from their tires.
What Vehicles Will The Achilles ATR Sport Fit?
Fits these vehicles and many others:
Acura TSX, TL, RL, 3.2CL

 

 

 

 

Audi A4, A6, TT

 

 

 

 

BMW Z4, 3 Series, 5 Series

 

 

 

 

Cadillac CTS

 

 

 

 

Chevrolet Camaro, HHR

 

 

 

 

Ford Fusion, Mustang

 

 

 

 

Honda Civic, Accord

 

 

 

 

Hyundai Azera, Genesis

 

 

 

 

Infiniti G35

 

 

 

 

Mazda 6 Speed, 3, RX-8

 

 

 

 

Mercedes-Benz E300

 

 

 

 

Mini Cooper

 

 

 

 

Nissan 370Z, Maxima, Sentra

 

 

 

 

Scion xD

 

 

 

 

Subaru Impreza, Legacy 2.5 GT

 

 

 

 

Volvo V70

 

 

 

 
Tire Sizes
15″
195/55R15 85V BLK
175/60R15 81H BLK
195/60R15 88V BLK
185/55R15 82V BLK
195/50R15 82V BLK
16″
205/45ZR16 83W BLK
205/50ZR16 91W XL BLK
205/55ZR16 94W XL BLK
215/55ZR16 97W XL BLK
225/55ZR16 99W XL BLK
215/60R16 95V BLK
215/60R16 95H BLK
195/55R16 87V BLK
225/55R16 99V XL BLK
195/50R16 84V BLK
225/50R16 96V XL BLK
195/45R16 84V BLK
17″
215/55ZR17 98W XL BLK
205/40ZR17 84W XL BLK
205/45ZR17 88W XL BLK
205/50ZR17 93W XL BLK
215/45ZR17 91W XL BLK
215/50ZR17 95W XL BLK
225/45ZR17 94W XL BLK
225/50ZR17 98W XL BLK
235/45ZR17 97W XL BLK
255/40ZR17 98W BLK
215/55ZR17 94W BLK
225/55ZR17 101W XL BLK
18″
245/45ZR18 100W XL BLK
225/40ZR18 92W BLK
235/40ZR18 95W XL BLK
245/40ZR18 97W XL BLK
265/35ZR18 97W XL BLK
225/45ZR18 95W XL BLK
215/40ZR18 89W BLK
215/35ZR18 84W BLK
19″
225/35ZR19 88W XL BLK
235/35ZR19 91W XL BLK
265/30ZR19 93W XL BLK
245/40ZR19 98W BLK
245/35ZR19 91W BLK
275/30ZR19 96W XL BLK
20″
225/30ZR20 85W XL BLK
275/30ZR20 97W XL BLK
245/35ZR20 95W XL BLK
255/35ZR20 97W XL BLK
225/35ZR20 90W XL BLK
225/35ZR20 93W XL BLK
235/30ZR20 88W XL BLK
245/30ZR20 90W XL BLK
245/30ZR20 93W XL BLK
Price Range
Achilles ATR Sport prices range from approximately $64 and up. You may also find occasional rebates, discount prices, coupons and special offers on this tire.
Warranty
Achilles provides a 25,000 mile tread warranty on the ATR Sport. Tire uniformity is guaranteed for one-year or the first 2/32 inch of wear. Materials and workmanship are warranted for 6-years and includes free replacement during the first year or first 2/32 inch of wear. A prorated amount is given for the remaining time period or down to the final 2/32 inch of tread depth.
---