Nankang Ultra Sport NS-II Tire Review & Rating
For those looking for a high performance summer tire at a budget friendly price, the Nankang Ultra Sport NS-II was built with you in mind. Featuring H, V and Z speed ratings, the NS-2 is designed for all types of sport coupes and sedans.
The high performance tread compound and directional tread pattern are made to provide enhanced grip and stability on dry road surfaces. Dual circumferential grooves add increased lateral traction and cornering power.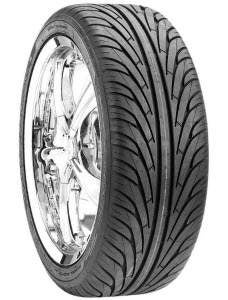 Computer designed V-shaped grooves add wet pavement traction and handling, while also improving hydroplane resistance. Added sipes around the shoulders of the tire also increase traction as well as give the tire longer treadwear.
A variable width tread design and Nankang's unique two-in-one pitches combine to reduce outside road noise and improve overall ride quality. This model is also M+S rated for performance in all types of conditions.
Pros
Traction and handling on dry or wet pavement is above average

Steering response and control are quick

Very good cornering performance

Excellent value for the money
Cons
No mileage treadlife warranty
Overall Thoughts
We were very surprised with the high performance from these tires. With speed ratings up to a Z and the aggressive directional tread pattern, this tire offers performance traction and cornering grip that is comparable to models from some of the bigger name tire makers.
Better yet, all of this comes at a fraction of the price you would pay per tire. Nankang has changed their quality standards over the years and it now shows. If a high performance tire at a cheap price is what you are looking for, this NS II is a very good choice.
Click Here To Find Lowest Price
What Vehicles Will The NS II Fit?
Fits these vehicles and many others:
Chevrolet Cobalt, Malibu, Impala

Chrysler PT Cruiser

Dodge Caliber, Charger

Ford Focus, Edge, Fusion

Honda CRV, Accord, Civic, CRV

Mazda 6, 3, CX-7

Nissan Sentra, Altima

Toyota Camry, Corolla

Volkswagen Golf
Tire Sizes
15″
195/55R15 85V BSW
205/55R15 88V BSW
16″
195/50R16 84V BSW
205/50R16 87V BSW
17″
205/45R17XL 88V BSW
205/50R17XL 93V BSW
18″
215/35R18 XL 84H BSW
215/40R18XL 89H BSW
225/40R-18 92H BSW
245/40R-18 97H BSW
245/45R18XL 100H BSW
255/35R18XL 94H BSW
265/35R18 93H BSW
19″
225/35ZR19XL 88Y BSW
225/40R19XL 93Y BSW
235/35ZR19XL 91Y BSW
245/35R19XL 93Y BSW
245/40ZR19 98W BSW
255/35ZR19XL 96Y BSW
265/30ZR19XL 93Y BSW
275/30ZR19XL 96Y BSW
275/35R19 96Y BSW
285/30ZR19 94Y BSW
20″
225/30R-20 85W BSW
225/35R-20 90Y BSW
235/35ZR20XL 92W BSW
245/30ZR20XL 95Y BSW
245/35R-20 95Y BSW
245/40ZR20 95Y BSW
255/30ZR20XL 92Y BSW
P255/35R-20 97Y BSW
275/30R20XL 97Y BSW
285/30ZR20XL 99Y BSW
22″
245/30ZR22XL 92W BSW
255/30ZR22XL 95W BSW
Price Range
Prices on the Nankang NS-II range from approximately $74 and up. You may also find occasional rebates, discounts, coupons and special offers on this tire.
Click Here To Find The Current Lowest Prices On All Nankang Ultra Sport NS-II Tire Sizes
Warranty
There is no mileage tread guarantee on this Nankang tire. However, you will find a tire uniformity warranty for the first 10% of treadwear. Materials and workmanship are warranted for a prorated amount down to the final 2/32 inch of tread depth.
---
Share this review