General Altimax RT43 Tire Review & Rating
General Tire has just launched its new Altimax RT43 in July 2013 as a planned replacement for the current Altimax RT and it looks like they have done a solid job with this upgraded model. Thisnew tire is designed to deliver increased all-season traction and handling with a more comfortable ride and extended tread life for drivers of coupes, sedans, minivans and crossovers.
A high-tech twin cushion silica tread compound and symmetric tread pattern combines with what General calls peak anti-slip sipe design technology that increases dry and wet traction as well as enhanced ride comfort.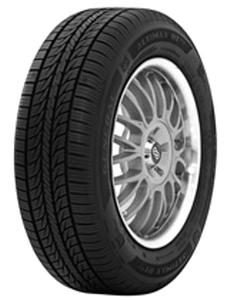 We really like what General has done to increase wet performance with this new technology in addition to the four circumferential grooves. The addition of sipes around the tread further increase grip on light snow covered road surfaces.
The tire's continuous center rib adds to stability and steering response, while unique acoustic modulation sound technology suppress sound waves for lower road noise and better ride quality.
Inside the tread you'll find two steel belts with a polyester cord body for added strength and durability, as well as additional ride comfort. Treadlife on this tire is among the longest of any tire in this class, and General backs it with a 75,000 mile warranty.
A nice added touch is the Replacement Tire Monitor that features a stamp that visually indicates "replace tire" based on the amount of treadwear. They have also provided Visual Alignment Indicators that extend tread life by letting you see if your vehicle is misaligned. Sizes are available from 13 to 18 inches and speed ratings up to an H.
Dry and wet traction

 

Ride comfort

 

Tread life

 

75K mile warranty

 
Cons
None that would disappoint

 
Overall Thoughts
General has a nice tire in this new RT43. They've designed it to compete with competitors such as the Cooper CS4 Touring, Hankook Optimo H727 and BFG Advantage T/A among others, and in that regard this tire doesn't disappoint.
Traction and handling on dry or wet road surfaces is among the best in class. The steering is crisp and responsive and gives you a more confident feeling behind the wheel. Tire stability is excellent throughout the speed range, and the ride is comfortable on all but the worst of road surfaces. Noise isminimal on this tire due in part to the twin cushion tread compound. 
Winter traction is very good in light to moderate snow, as well as on lighter amounts of ice. Of course, tread life is another area where this model excels in. With a 75,000 mile tread guarantee you may find yourself trading in your vehicle before ever replacing the tires again. Overall, the AltimaxRT43 is among the best all-season tires on the market today.
Click Here For Current General Tire Coupons
Click Here To Find Lowest Price
What Vehicles Will The RT43 Fit?
Fits these vehicles and many others:
Acura RSX

 

Chrysler 300, Sebring, PT Cruiser

 

Chevrolet Malibu, Cruze, Cavalier, Astro, Impala, Equinox

 

Dodge Challenger, Charger, Magnum, Avenger, Caliber

 

Ford Focus, Mustang, Escort, Ranger, Taurus, Escape

 

Honda Accord, Civic, Odyssey, CR-V

 

Jeep Patriot, Liberty, Grand Cherokee

 

Kia Optima, Soul, Spectra

 

Lexus LS400

 

Mazda 3,5,6

 

Nissan Altima, Sentra, Versa, Frontier

 

Pontiac Grand Prix, G6

 

Saturn Aura, SC2, L200

 

Scion xA

 

Toyota Camry, Corolla, Supra, Sienna

 

Volkswagen Passat, Golf, Jetta

 
Tire Sizes
13″
175/70R13 82T BSW
14″
175/65R14 82T BSW
175/70R14 84T BSW
185/65R14 86T BSW
185/70R14 88T BSW
195/70R14 91T BSW
15″
185/60R15 84T BSW
185/65R15 88T BSW
195/60R15 88T BSW
195/65R15 91T BSW
205/65R15 94T BSW
205/70R15 96T BSW
215/60R15 94T BSW
215/65R15 96T BSW
215/70R15 98T BSW
16″
205/55R16 91T BSW
205/60R16 92T BSW
205/65R16 95T BSW
205/70R16 97T BSW
215/60R16 95T BSW
215/65R16 98H BSW
215/65R16 98T BSW
225/60R16 98T BSW
225/65R16 100H BSW
225/70R16 103T BSW
235/60R16 100T BSW
235/60R16 100H BSW
235/65R16 103T BSW
17″
215/55R17 94T BSW
215/60R17 96T BSW
215/65R17 99T BSW
225/50R17 94T BSW
225/55R17 97T BSW
225/60R17 99T BSW
225/60R17 99H BSW
225/65R17 102T BSW
225/65R17 102H BSW
235/55R17 99T BSW
235/60R17 102T BSW
235/65R17 104T BSW
18″
215/55R18 95T BSW
225/50R18 95T BSW
235/55R18 100H BSW
235/65R18 106T BSW
Price Range
General Altimax RT43 prices range from approximately $54 and up. You may also find occasional rebates, discount prices, coupons and special offers on this tire.
Click Here To Find Current Lowest Price On All General Altimax RT43 Sizes
Warranty
General Tire warrants the RT43 for 6-years or 75,000 miles. Mileage for rear tires is reduced by half if sized differently than the fronts. Tire uniformity is guaranteed for the first year or first2/32 inch of wear.
Materials and workmanship are warranted for 6-years and include free replacement during the first year or first 2/32 inch of wear. A prorated amount is given for the remaining time period or down to the final 2/32 inch of tread depth.
General also provides a 45-day customer satisfaction trial where you can exchange the tire for another General brand if you are not completely satisfied.
---